The Rich Are Getting Much Richer, but Don't Blame Taxes
Slate's Tim Noah has a cool series on the "Great Divergence," the growing income gap between the rich and the poor -- and between the richest and the merely rich.
The Great Divergence is two concentric movements. The broadest divergence is between the top quintile (or 20 percent) and the middle. In 1979, the pool of income in the top fifth was 8X the bottom fifth. By 2007, the top quintile out-earned the bottom by a factor of 14.
Inside that divergence, like a second nesting doll, is the story of the top one percent. Since 1973, the share of income among the top percentile of earners tripled, growing from 8 percent to 24 percent. That means the one percent of earners today take home a fourth of all the cash earned in America.
Want a picture to go with that stat? Here we go: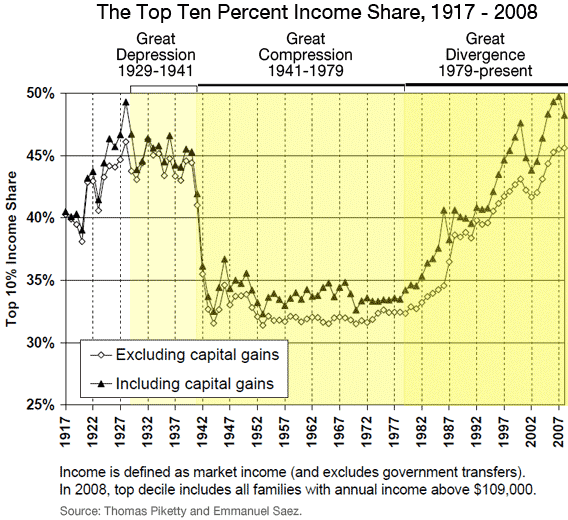 Tim is spending the next two weeks counting the reasons for this great divergence. To date, he has rejected: race, gender, and immigration. I'm not sure what reasons he will accept as legitimate, but I hope he spends a good deal of time talking about health care.
One thing is for sure: federal taxes aren't impoverishing the bottom 20 percent. Effective federal tax rates (that's an estimate for what you pay in overall federal taxes, including income, payroll, corporate and excise taxes) have fallen dramatically for the top one percent, but they also fell considerably for the bottom fifth. Wages are stagnating, but taxes on those wages have declined, as well.