Retail Sales Continued to Rise in August
The mildly good news continues for August this week as Retail Sales grew for the second month in a row. Sales increased 0.4% to $364 billion, according to the Census Bureau. That was slightly better than the 0.3% increase that analysts expected. Although the trend is in the right direction here, the rise in sales has been quite slow.
To see this clearly, let's look at the chart: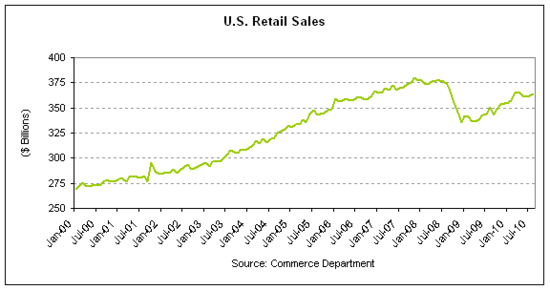 You can see that sales began to recover in July from their drastic two month plummet over May and June. That drop was so bad that August sales still remain more than $2 billion below what they were in April.
To better understand what's making this trend so slow, it helps to look at the individual categories within total retail sales: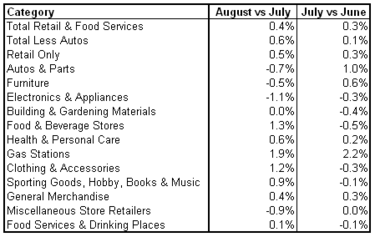 Auto sales are partially to blame for retail sales having trouble getting back to April's level. They were one of most significant categories showing decline in August, and also provide products with big price tags, which could have helped to increase the aggregate number if they had improved. Electronics and appliances also had fewer sales, which could be partially driven by the low home sales over the past few months. If people aren't buying homes, they probably aren't buying as many appliances. The same can be said of furniture sales, which also declined in August.
Meanwhile, just about every other category increased -- even some of those that declined in July, like food and clothing. From the data, it looks like consumers are a little more comfortable spending on small ticket items, but not making as many big purchases at this time, like autos, furniture, and appliances. As they remain cautious, this trend may continue. If that's the case, retail sales will continue to rise relatively slowly.