Maybe July Wasn't as Bad as We Thought
Today, September caught us by surprise. With August suddenly over, now would be a good time to look back at all of the economic indicators the month revealed about July. It certainly felt like there was little good news. Yet most indicators' performance was relatively better than in June. The main exception was real estate.
In a tradition started in June, below you will find a chart that lists the July results of many economic indicators -- on a qualitative scale. This is by no means a completely exhaustive list, but it does take into account lots of important statistics. It represents more of a qualitative summary, however, since it just considers directional movement from month-to-month, rates of change, and trends. This is also some overlap. Here it is (click on it for a more legible version):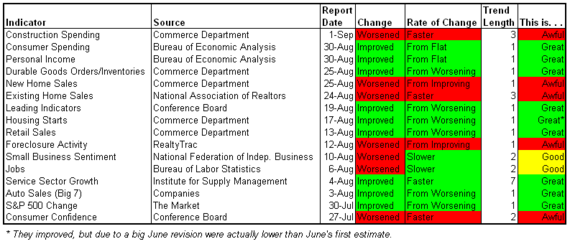 July's chart is more exhaustive than June's, and was also a little bit more carefully constructed, so to only include indicators that reveal July's health -- not June's or August's. As a refresher, the final verdict column represents a spectrum which includes great, good, troubling, and awful -- based on the direction and rate of change.
As you can pretty clearly see, there's quite a lot of green in the chart. In fact, of the "awful" indicators, four out of five were related to real estate. Within this sector, the home buyer credit pushed forward some of the pain that was felt in July. Without the credit, sales would have been much lower in prior months, with July's performance likely better. Because this market wasn't allowed to naturally recover, its suffering has been prolonged.
The only other extremely negative indicator was consumer confidence. Unfortunately, that's a pretty important one. It was likely primarily driven by real estate and unemployment. The labor market, in fact, was one of the only two "Good" indicators, since each worsened, but at a slower pace than in the prior month. The other statistic with this label was small business sentiment, broadly reflecting consumer demand, which you can see has been weak.
This result sort of makes sense in the context of a very slow recovery. Sentiment is bad, mostly because consumers and businesses want to see more improvement -- and because real estate wasn't permitted to hit bottom earlier. And with employment, the official statistics were actually somewhat misleading, as the job losses were led by temporary Census worker firings, while the private sector added a small number of jobs.
For all of the other indicators, however, we're seeing improvement. But if you look at the quantitative results, then you will learn that these statistics only got a little better. Many improved compared to their horrible June numbers, but remained weak on a relative scale.
And that's really the takeaway. July's indicators don't portray the road to double dip as much as they do a very slow, painful recovery. The economy is generally getting better, but barely. If this trend continues, and sentiment improves, then the recovery could gain speed. But real estate threatens to hold it down if it experiences much additional deterioration. It's easily the biggest threat to the recovery at this time.
Here's a list of articles that will lead you to many of the specific indicators contained in the chart above:
Construction Spending Hits 9-Year Low in July
Americans Earn and Spend More, But Save Less in July
New Home Sales Fell 12.4% in July
How Bad Was July's Plummet in Home Sales?
Leading Indicators Predict Slow Recovery
Housing Starts Rise in July, Sort Of
Annual Foreclosure Activity Falls Again in July, by 10%
Small Business Optimism Falls to Worrying Level
Jobs Decline by 131,000 in July, Unemployment Rate Steady at 9.5%
ISM Says Service Sector Expanded in July
Combined Big 7 Auto Sales Up in July