Home Builders Remain Depressed in September
The start of a new season hasn't done anything to boost the sentiment of home builders in the U.S. The National Association of Home Builders/Wells Fargo Housing Market Index (HMI) was unchanged this month, at the very low value of 13. Although this could be interpreted as positive, since it ended a 3-month slide, 13 is an extremely low level historically.
Here's the chart: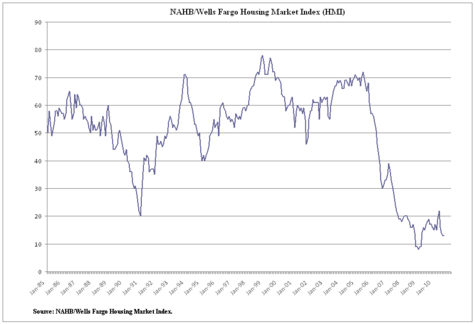 You can see that, other than the five months in late 2008 through early 2009 when the financial crisis was at a climax, home builders sentiment is the worst it's been since at least 1985.
On one hand, this is clearly bad news. Construction jobs have been the hardest hit during this recession. The HMI indicates that this probably won't change anything soon; indeed, the sector's job losses could increase as builders' future expectations dim.
On the other hand, this could be interpreted as good news for housing market stability. There's an enormous inventory of existing homes that need to be sold before the housing market can begin to meaningfully recover. As foreclosures remain at high levels, the last thing the market needs is additional new homes competing for the lackluster demand for houses. While painful for the construction industry, fewer new homes will allow the inventory to shrink more quickly.
As banks ramp up their repossessions, it will likely become harder and harder for new construction to compete with the big deals on existing homes. So we shouldn't expect to see this index improve much in the near future.