Have Democrats Failed Small Business?
Although small businesses were a little more optimistic in August according to the National Federation of Independent Business, its monthly report (.pdf) shows that they continue to struggle. The commentary also makes something else clear: Washington is part of the problem, not the solution. In particular, they call out Democrats, looking forward to the change of guard in Congress widely expected in November.
The optimism index rose in August to 88.8 from 88.1. That might sound pretty good, but it remains quite low -- even lower than from April through June. Here's a chart to provide some perspective: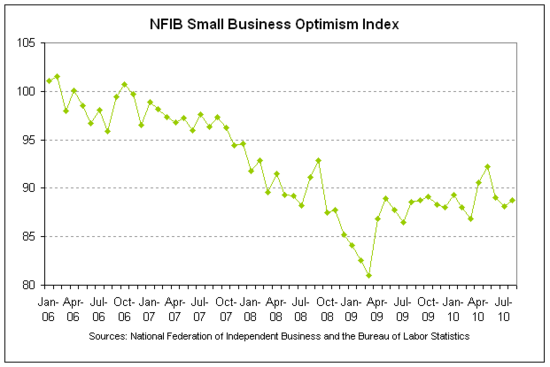 The NFIB appears to believe that the government, and Democrats in particular, should shoulder some of the blame here for impotent economic policy. The commentary section the August report begins with this analogy that compares the government to a business, asserting the shareholders -- the people-- are displeased:
The Index has been below 93 every month since January 2008 (32 months), and below 90 for 25 of those months, all readings typical of a weak or recession-mired economy. Near the beginning of the recession in 2008, USA Inc. shareholders elected a new CEO and management team but unfortunately the change in leadership did nothing to curb the recession. In fact, the economy only got worse while new policy tactics enacted by management made little sense in terms of dealing with the main problems. Now, the shareholders are more than restless and unnerved by what they see coming out of Washington. New solutions to the problems continue to be announced, but confidence in management is very low and continues to decline. The next shareholder meeting many board members will be gone, replaced with a new set of ideas and focus.
There's no mistaking the tone here: the NFIB is not a fan of the Democrats' policy thus far. But what about the President's recent suggestions to help business? They don't like those either. In an interview on CNBC this morning NFIB's chief economist William Dunkelberg responded to a question about the $30 billion small business lending plan, saying:
The President calls them job creation bills, but that's his perspective. That's like 'change we can believe in.' Well, change isn't always the right kind of change. This doesn't work. Here, let me give you a quick simple example. Let's have a tax cut that gives a small business owner $30,000. Are they going to spend that $30,000 to hire a worker who can only increase sales by $10,000 or maybe nothing? The worker can't pay for him or herself, you're not going to spend the $30,000 on it. Give them an interest-free loan for $30,000. Are they going to invest it in a piece of equipment that won't to pay for itself? These are investments, and that's the problem that we have. $30 billion for small banks to make small business loans -- wait a minute: there are a trillion and a quarter excess reserves now being held by the banks at the Fed. My little bank -- we have like $12 or $13 million in excess reserves we would love to lend out. But you know what? 52%, a record 52% of small businesses, said we don't even want a loan. We have no use for the money right now.
Instead of the current proposals out there, Dunkelberg said small businesses would be better off with something like a payroll tax holiday to reinvigorate consumer demand.
As Dunkelberg says, businesses just aren't very concerned with credit these days. From the NFIB report:
A near record low 31 percent of all owners reported borrowing on a regular basis, which is then not surprising that reported and planned capital spending are at 35 year record low levels. Those looking for loans predominately are looking for cash flow support, not funds to expand or hire (see Small Business Credit in a Recession, 12/09). A net 12 percent reported loans harder to get than in their last attempt, one point lower than July. Overall, 91 percent of the owners reported all their credit needs met or they did not want to borrow, unchanged from July. Only four percent cited financing as their top business problem.
Instead, poor sales are driving their hardship, with 31% of respondents saying it's the single biggest problem they face. Although sales fell in August, the small firms polled were more optimistic about the future, which drove the rise in the Index: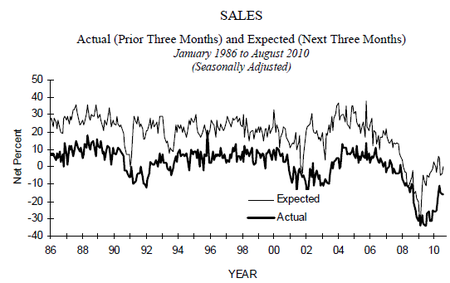 Yet, this optimism isn't enough to encourage them to hire. Although firms had slightly more job openings, fewer are looking to hire in the next three months: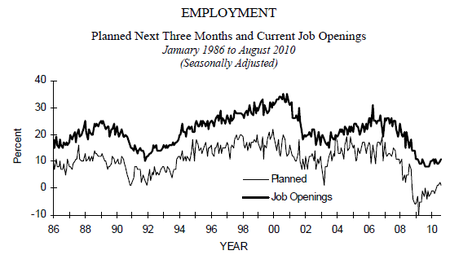 Why would hiring slow with optimism rising? Part of the reason why is that inventories are too high. They've been rising aggressively most of the year, while firms have started planning to reduce them: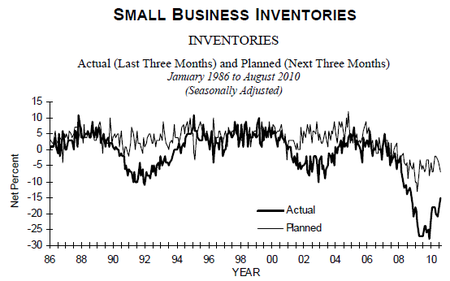 The problem small businesses are experiencing is the same that's causing the very slow recovery. Consumers continue to spend apprehensively. And just as the broader recovery, if weak demand persists, so will the problems of small business.