Despite Unemployment Rising to 9.6%, a Glimmer of Hope?
The unemployment rate increased to 9.6% in August from 9.5% in July, according to the Bureau of Labor Statistics. The economy lost another 54,000 jobs during the month. This might all sound like relatively bad news, but today's report actually provides some reason for optimism. The job losses were fewer than the 105,000 economists expected. The private sector also added more jobs, as temporary Census worker firings continued to skew the numbers downward.
Let's start with the charts from BLS. First, the historical rate: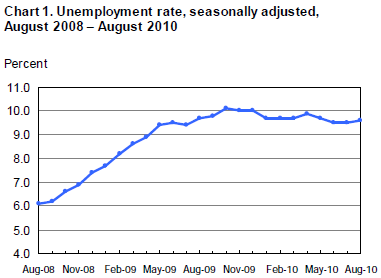 There are two things to note here. First, this marks the first rise in the rate since April. Second, August was the 13th straight month when unemployment was 9.5% or higher.
Here's the chart for net change in jobs: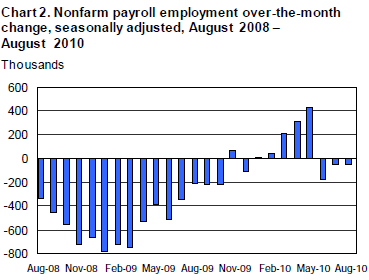 This might not look great, but it is significantly better than we thought it was last month. The jobs lost in June and July were both revised in the positive direction, with losses changing from 221,000 to 175,000 and 131,000 to 54,000, respectively. That's a net increase of 123,000 jobs. So the summer was still a bad time for jobs, but not nearly as bad as we thought, even taking Census losses into account.
Indeed, the private sector has been adding jobs steadily all year: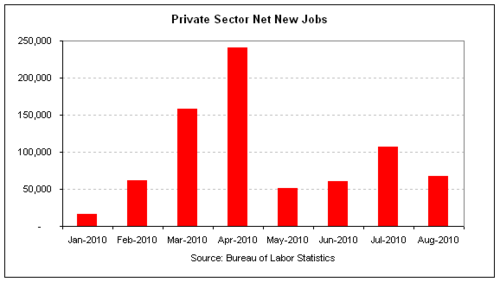 Clearly, firms aren't hiring huge numbers of additional workers, but it's pretty clear that they are hiring more than they're firing. In the summer months, 235,000 new private sector jobs were added.
On a sector-by-sector basis, the news was also broadly good in August. Here are some highlights: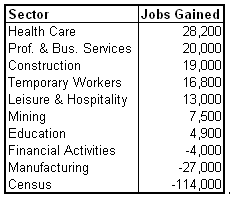 As usual, health care is leading the way. But it's notable that professional and business services, leisure and hospitality, and construction all added jobs. Those are generally pretty tough industries to be in during a recession, and all added more jobs in August than in July. Temporary workers also increased, after a small, but worrying, decline in the prior month. It's disappointing to see so many manufacturing jobs lost, however.
Last month there were also fewer long-term unemployed, as those jobless for 27 weeks or more declined by 323,000. Here's a chart for unemployment duration: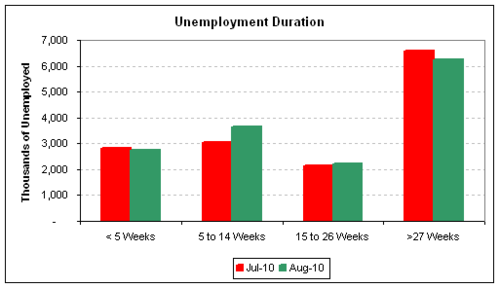 Those long-term unemployed Americans probably got jobs, rather than just leaving the workforce, as the number of discouraged workers actually declined slightly: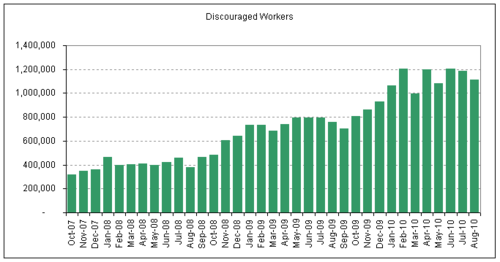 Yet, it's unclear if those 323,000 Americans got very good jobs. The report also tells us that the number of people working part time for economic reasons also rose by 331,000. It's certainly possible that some of those people are taking part-time jobs to end their long period of unemployment.
Finally, the broadest measure of unemployment, "U-6," which includes discouraged workers, marginally attached, and those forced to work part time also rose in August, to 16.7% from 16.5%.
So why did the unemployment rate manage to rise when most of the news is mildly good? First, because Census job losses are still hurting the overall numbers. Luckily, only 82,000 Census workers were left employed at the end of August. So subsequent months won't be as affected as the past three, which registered six-digit job declines from this population of temporary workers.
The other factor here was seasonality. August is a month during which the seasonally-adjusted rate generally rises above the unadjusted rate. In fact, the unadjusted unemployment rate declined from 9.7% to 9.5%. Here's how those two lines interact: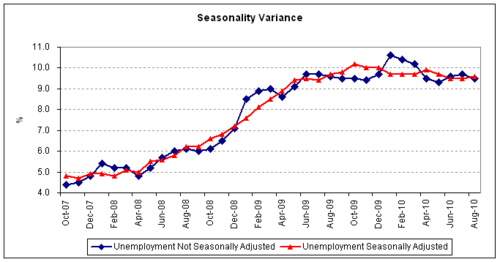 Also, although it's not shown here, the unadjusted U-6 rate also declined significantly, from 16.8% to 16.4%.
While it's hard to get excited about a month when 54,000 more Americans were unemployed and the seasonally adjusted rate ticked up slightly, there's definitely some reason for optimism in this report. The private sector continues to add jobs and most sub-sectors had more workers. There were also fewer long-term unemployed Americans.
Finally, this month our readers did pretty well in our monthly poll. First, 37% correctly guessed that the rate would rise slightly to 9.6%. Second, 31% rightly predicted that between zero and 100,000 jobs would be lost. Congratulations to anyone who got them both. Forecasting these numbers is no easy task these days -- just ask the many professional economists who managed to get it wrong!