Consumer Spending Dipped in August
Despite consumer confidence rising in August, spending fell, according to Gallup. It found that average daily discretionary spending in the U.S. declined by $5 last month, to $63. The decline since May has been pretty steady, when it was $72. That's a decline of nearly 13% in those three months. While the decline in August was across-the-board among different income groups, wealthier Americans are leading the broader decline.
First, here's the lower- and middle-income chart for spending: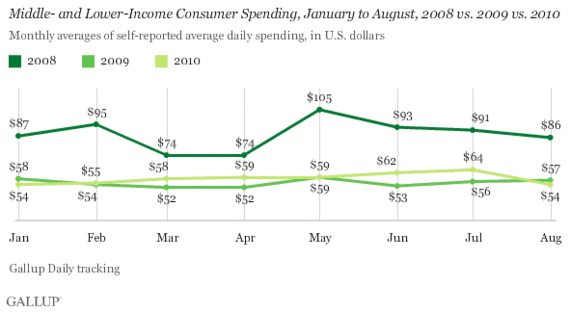 Focus on the light green line for 2010. You can see that spending had risen through August, before undergoing a drastic drop of $10 per day last month. At $54, it was the lowest since January.
The high-income chart isn't any more optimistic: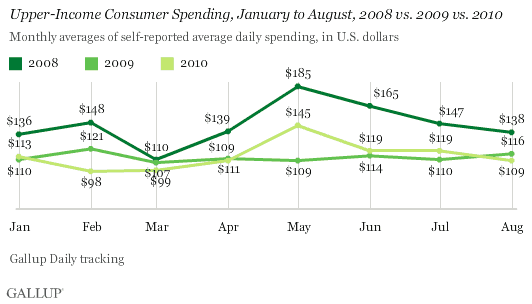 Again, there was a decline from July to August. But look at how steep the drop is since May. The group's spending has gone from $145 per day to $109. That's a $36 or 25% decline. Interestingly, if you look at the dark green line for 2008, the top earners also saw a big drop from May to August. Although it was even greater at $47, it also rounds to a 25% decline.
And we all know how the latter two quarters of 2008 and the few that followed turned out. GDP began its steady decline at that time, by 4.0%, 6.8%, and 4.9% from Q3 2008 through Q1 2009. That's not to say the economy is headed for a similar fate -- it almost certainly isn't. Spending for the other income groups hasn't fallen as aggressively. But it has declined at a more moderate rate of 8% from May to August. In 2008, it fell 18% for lower- and middle-income Americans over the same period.
So why are the rich more rapidly cutting their spending? Obviously general economic pessimism is probably a part of the reason. Through May, some were counting on a much more robust recovery. Since wealthier Americans have more discretionary income, they ramped up their spending more aggressively due to their optimism and have since cut back. They might also be anticipating their taxes going up if the Bush tax cuts aren't renewed for their income segment, which could lead to more saving now.
Overall this decline in spending is a somewhat worrying trend. If Americans don't spend at a brisk pace, then businesses won't ramp up hiring. That will keep the recovery's progress sluggish. Of course, the flip side is that Americans' increased saving is strengthening their personal finances.