Bank Repossessions of Homes Reach New High in August
Foreclosures continued to occur in very high numbers in August, according to the latest data out by foreclosure tracker RealtyTrac. Overall, foreclosure activity rose last month, with the combination of default notices, auctions, and bank repossessions increasing by 4% compared to July. Digging into these categories of types of action, however, helps better show trends in distressed housing.
Let's start with a chart showing total foreclosure activity since August 2005, by category: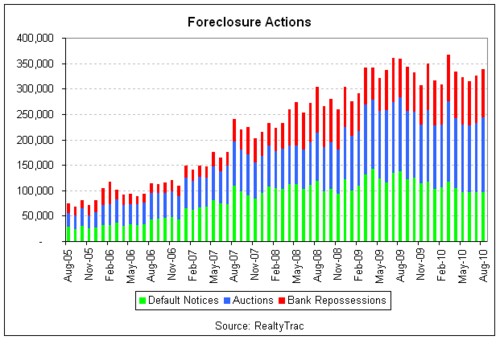 You can see that the total amount of foreclosure activity in August was the second most so far in 2010, other than the all-time high hit in March. But it's more interesting to look at how the types of actions within the total are changing. This next chart helps show that better, in line format: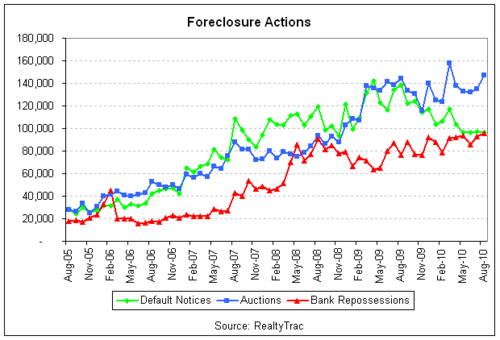 Let's consider each separately:
Default Notices
Perhaps the most striking trend is the default notices have declined from their highs last year. It's not clear from this report why, however. It could be that fewer homeowners are defaulting. But it could just as easily be that more short sales are occurring, banks are modifying more mortgages prior to default, or banks are simply taking longer to notify severely delinquent borrowers that they have defaulted.
Auctions
The number of homes listed for auction, however, increased a lot in August. The month marks the second highest tally, ever. The fact that default notices are declining while auctions are rising could mean a few things. More trial mortgage modifications of long-ago defaulted homes could be failing to go permanent. Another possibility is that fewer short sales are occurring prior to auction, which is likely considering that Americans purchased so few homes this summer.
Here's a chart of the five states with the highest concentrations of auctions listed per housing unit: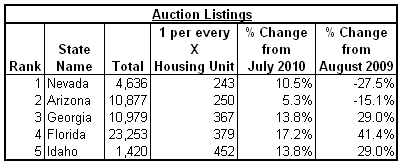 This list captures most of the usual suspects, with Nevada leading the way. One in every 243 homes was listed for auction in August. This entire list had more auctions listed in last month than in July.
Bank Repossessions
At the next stage of foreclosure, we see the highest number yet. In August, 95,364 homes were repossessed by banks, having failed to sell at auction. There are two likely reasons why this number is growing. First, banks are working through the backlog of defaulted properties. Second, auctions might be increasingly unsuccessful for home sales lately, as buyer demand has been very weak in recent months.
Here's the top five by concentration: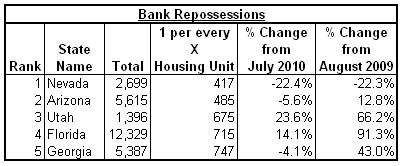 Again, Nevada has the unfortunate distinction of the highest concentration of bank repossessions, with one in every 417 homes being taken over by banks during the month. But this is far fewer than the state had both a month and year earlier, each down around 22%.

James J. Saccacio, CEO of RealtyTrac explains what he thinks the August trends mean:
"The trend lines of decreasing default notices and increasing bank repossessions converged in August, with virtually the same number of new default notices and bank repossessions for the month -- a clear indication that the clogged foreclosure pipeline is being carefully managed on both ends by lenders and servicers."

"On the front end, seriously delinquent loans are rolling into foreclosure at an unusually slow rate, while on the back end the dammed-up inventory of properties already in foreclosure is moving to REO in steady stream rather than a flood -- presumably to prevent further erosion of home prices."
So he 's asserting that severe delinquencies remain high, but banks are slow to begin the foreclosure process on these homes. This means the shadow inventory is growing. As he mentions, this is probably so that banks can avoid too many homes hitting the market and driving down prices as home buying demand remains very low. That way, prices won't sink as quickly.