Auto Sales Struggled in August
August was a bad month for automakers. As the sales numbers come in today, some estimates say that it may have been the worst August in nearly three decades. Because consumer sentiment has been weak lately due to the slow recovery in the U.S., fewer Americans than usual purchased new cars. Although most auto companies saw sales decline, some did worse than others.
If you look at the big 7 automakers, their vehicle sales were down 22.3% year-over-year. Here's the chart: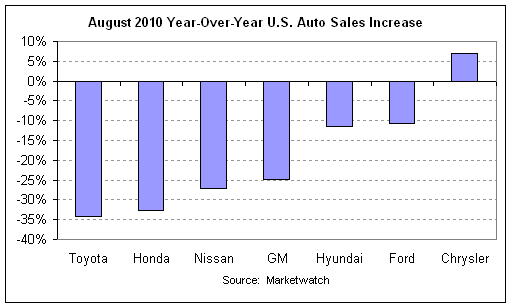 The numbers here are so ugly because cash-for-clunkers was in effect in August 2009, which exaggerates the variance. But you can see that Chrysler was the clear standout, as it was the only automaker to see sales rise compared to a year earlier.
Compared to July, sales were still off a bit, but not nearly as drastically: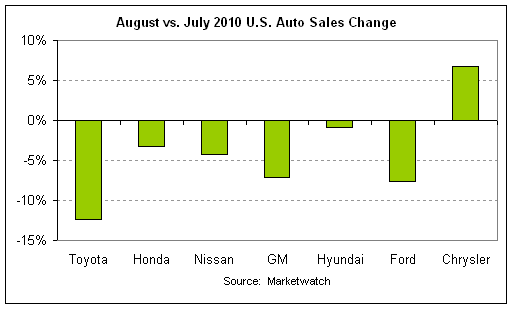 Aggregated, these big 7 automakers had 5.6% fewer vehicle sales month-over-month. Again, Chrysler was the standout and Toyota's decline was the worst. The other non-U.S. automakers shown experienced relatively minor declines, while GM's and Ford's sales dropped a bit further.
Here's a breakdown of the big 7's share in August considering just this group's sales: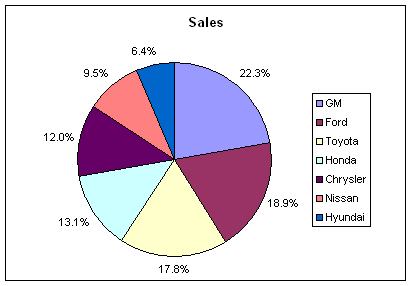 And here's how that market share has changed over the past year: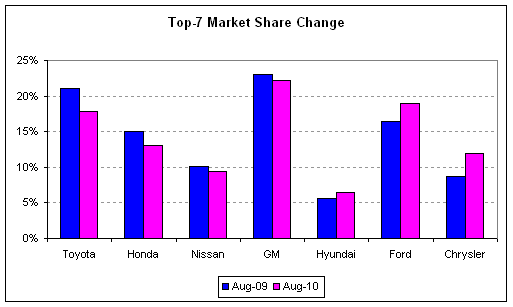 You can see that the Japanese automakers lost significant ground in August of 2010 compared to 2009. Their combined share is down about 6%. Meanwhile, Ford and Chrysler made up most of those additional sales in August of this year, with Hyundai and GM showing less than a 1% change.
It will be interesting to see if Chrysler's great performance will continue like in August, or if the month was just a blip. It had been showing more gradual improvement up to now. In general, however, auto sales were quite weak last month in a signal that economic uneasiness is beginning to affect the industry.
(Source: Marketwatch - Toyota, Honda, Ford, Chrysler, GM, Nissan, Hyundai)