42 States Had Fewer Employed Workers in August
Since the August national unemployment report was disappointing, it should come as no surprise that the news isn't any better on a state-by-state basis. In fact, employment declined in 42 states last month, according to data provided by the Bureau of Labor Statistics. This compares somewhat favorably to 45 states having fewer employed workers in July. That's probably little consolation, however, as the August state employment report shows continued labor market contraction in the vast majority of U.S. states.
So who were those lucky eight states that saw employment rise last month? They included Alabama, Illinois, Kentucky, Massachusetts, Mississippi, New Hampshire, Oregon, and Tennessee. Seven other states saw their unemployment rate decline, but that was due to changes in the size of their labor forces instead of having more employed workers. They included Maine, Nebraska, New Jersey, North Carolina, Ohio, Pennsylvania, and Rhode Island.

In the national report, we learned that the temporary Census job losses were mostly responsible for the decline in employment. Although such detail isn't provided in the state report, you can back into how the Census job losses might have affected states by using the establishment data provided for certain industries. By subtracting government jobs from total employment, you find that private sector employment increased in 17 states and declined or was unchanged in 33. That's definitely better than the overall picture, but it still shows private sector jobs only grew in 17 states, which isn't exactly reassuring.
Looking at specific states, Nevada remains the worst. It's unemployment rate rose again in August by 0.1%, now up to 14.4%. It edges nearer and nearer to Michigan's December high of 14.5%. That state came in second worst, with its unemployment rate flat at 13.1% last month. California rounded out the top-3, seeing its jobless rate rise by 0.1% to 12.4%.
In terms of August performance, Louisiana's labor market suffered most with its unemployment rate rising 0.4% as 8,600 more residents were jobless. It's unemployment rate is still only 7.6%, however, well below the national average of 9.6%. South Carolina also had a bad month, with its jobless rate increasing by 0.3%. That brought its rate up to 11%, worse then the national average.
There are now six states with unemployment rates of 11% or more and five states with unemployment rates of 6% or less. Here's a chart of the worst and best: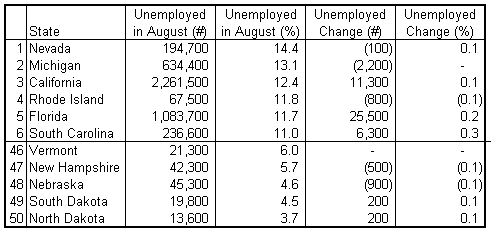 This cast of characters in August was the same as in July.
Finally, here's the interesting map that BLS provides, which provides a visual explanation of state unemployment: