Why Hasn't the Web Killed TV, Yet?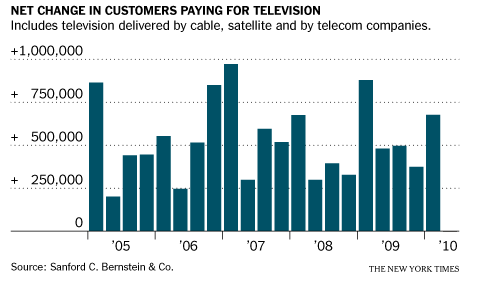 The Web has ripped through the business models of music and journalism, and perhaps even books, like a tornado. But it hasn't made much of a dent in TV demand. Despite the talk of cutting the cable and using the Internet to watch TV, Americans aren't breaking up with the tube "in any meaningful numbers," Brian Stelter and Matt Richtel
report
in the NYT. Why?
Maybe TV found the right strategy and stretched it to fit the on-demand culture. Just as the Web destroys business models by offering a world of information for one frictionless monthly payment, cable news has long offered hundreds of channels, a veritable universe of content, for a monthly fee. And cable adapted to an On Demand world by putting entire seasons of syndicated shows behind the cable box, preempting the Web's ability to siphon off viewers. The authors have more thoughts on cable's evolution:

To keep customers, especially the price-sensitive ones, the carriers are getting creative. They are trying to bring the living-room experience to every other screen in a customer's home, including laptops and tablets. Last week Verizon became the latest carrier to announce plans for an app that puts live TV on the iPad, pushing out the walls of cable TV's walled garden a bit.

Cablevision, in the New York City area, is running similar trials for tablets and smartphones, Tom Rutledge, the chief operating officer, said in an earnings call this month. "Our vision is that we will provide our full service, everything we offer in the home," Mr. Rutledge said, "on any device that can display TV or act as a TV in the home."
Read the full story at NYT.