U.S. Trade Gap Swells in June as Exports Fall
The bad economic data for June just keeps on coming. The U.S. trade deficit soared during the month, up by 18.8% to $49.9 billion, according to the Bureau of Economic Analysis. This marks the third-straight month that the gap has grown. That might not be so bad if exports grew as well as they did in May, but they didn't. They declined by 1.3%. There's no good news here for the U.S. economy.
Let's start with a chart showing how the U.S. trade balance has changed since 2008: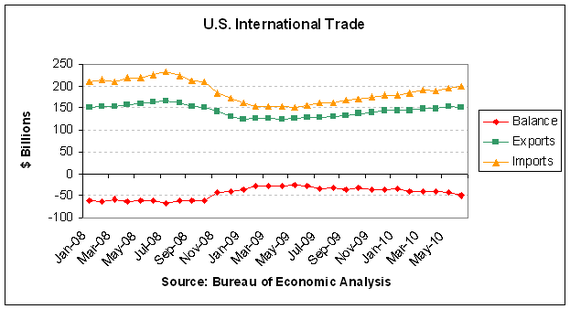 You can see that the trade gap shrunk when the recession was at its worst, but has been growing slowly over most of the past year. Exports (green line) had increased for most of this time too. June's decline of $2.0 billion is the largest since January 2009. Meanwhile, imports are soaring, up 3.0% or $5.9 billion for the month -- the biggest increase since December.
The fall in exports is especially bad news for those who hoped for an export-led labor market recovery. If the U.S. is selling fewer goods and services to foreign markets, then employers won't need to hire more workers to meet global demand. To make matters worse, the U.S. is buying more foreign goods. That doesn't help boost domestic jobs, since that U.S. demand is lost on its firms.