Tim Geithner Didn't Write the Headline, but He Still Wrote the Column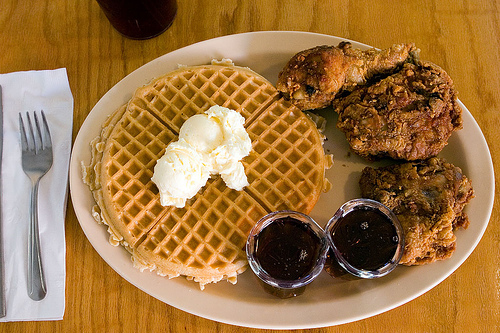 Yesterday I used the word
"pathetic"
to describe Sec. Tim Geithner's New York Times op-ed
"Welcome to the Recovery."
That was a little harsh. My most visceral objection was to the blithe and tone-deaf headline, and
it turns out
the administration not only didn't pick it, but also they hated it as much as I did. Fair enough.
But my principle objection stands. This economy is a tough sell. Passing more stimulus while the deficit balloons is also a tough sell. But the administration is much better, or seems more interested, in tying a pretty ribbon on the weak recovery than at tying a pretty ribbon on the argument for more stimulus. It's self-defeating. The more time you spend beautifying the ugly economy, the harder you're making it on yourself to sell more stimulus to make it better.
One quick example. Geithner praises business profits as an indicator that the economy is getting better. Are business profits good for the economy? Yes. But the reason businesses are turning big profits is they started this recession with mass layoffs and have kept costs down by not hiring. Look at today's news. Private payroll gains are anemic. Large business still aren't hiring, but many are also turning a profit. Rather than present this news as Exhibit A in The People v. the White House PR Department, the administration should explain why corporate profits are deceptive and why the recovery we've seen in the stock market hasn't trickled down to the Sunday market (or some other neat parallelism).
That's my piece. In other news, people who name oil leak procedures should name everything. Here's your Business Breakfast.
1. AND THEN THERE WAS ONE
Sen. Collins is the only thing standing between $26 billion in new state aid and nothing [
Politico
]
2. NOT HIRING
Private payroll gains increased by 42,000 -- better than estimates but still bad -- and large business aren't adding workers [
WSJ
]
3. ... BUT TURNING A PROFIT
Toyota posts $2.2 billion earnings, much thanks to about $500 million in cost-cutting over the last year [
NYT
]
4. SMARTERPHONES
The new BlackBerry -- 30 percent taller and with a touchscreen -- is but also sort of wonderful. [
Gizmodo
]
5. NO, MACONDO LEAK. I EXPECT YOU TO DIE.
'Static kill,' the latest in a line of complicated leak-plugging procedures that would make great James Bond movie titles, is working [
WaPo
]