The Incredible Cost of College
Ultra responsible parents start saving for their children's college tuition the moment they're born. But how much do they need to save? Fidelity provides a really nice explanation. The numbers, however, are staggering.
Here's a chart from Fidelity: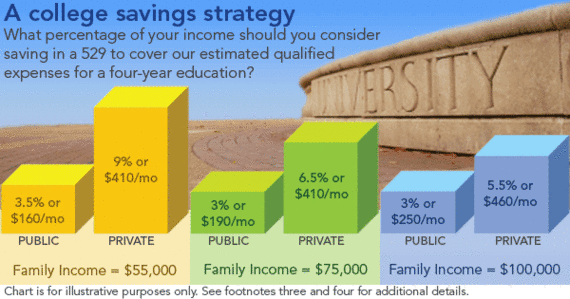 This is simply incredible. These estimated mostly payments would run from a child's birth through his or her third year of undergraduate education -- about 21 years. The chart assumes a family's income will grow by 1.5% per year. It also already takes into account a healthy amount of financial aid through grants, scholarships, and family gifts.
Still, parents with a combined income of $55,000 would have to dedicate 9% of their pay to a 529 account. If their combined income is $100,000, then the payment is still 5.5%. If they have two kids, double that, and so on. Oh, and those percentages are of gross income. The families still need to pay their taxes, medical insurance, housing, food, and any other living expenses. They would also presumably want to be saving for retirement for those 21 years.
Obviously the burden is smaller for public universities, but it's still pretty significant. For a family with three kids that would mean around 10% of their income will need to be set aside in all three of these income segments.
The numbers above essentially shows that it's not likely many low- to middle-class families will have much ability to pay-in-full for their children's education if they all go to private universities. It would take incredible discipline, if it's realistic at all. Many may even struggle to fully save for the total cost of a public university. Whatever amount parents don't manage to put aside would fall on students' shoulders in the form of loans.
This is pretty bad news for their kids. Proactive saving by parents is cheaper than after-the-fact loans. The latter require paying interest as well, which means that the big balance due to the university becomes even more expensive than it would have been if paid beforehand.
As education continue costs rise, they are becoming outlandish. Although college is a valuable investment, at some point you have to wonder if the price is beginning to exceed the return. Why should it cost so much for professors to teach students about various academic disciplines?
(h/t: Bucks blog)