The Economic Legacy of Christina Romer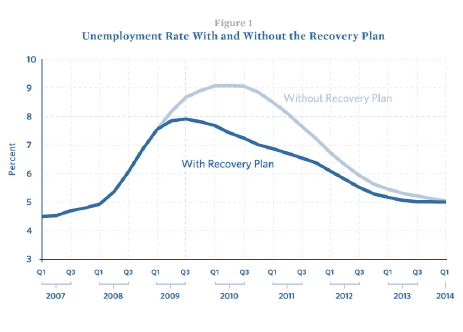 In January 2009, White House economists Christina Romer and Jared Bernstein did something that White House economists tend to do: they made a graph. That graph, shown above, projected the unemployment rate would kiss 9 percent without a stimulus and barely touch 8 percent if we passed a $800 billion spending and tax cut bill. The bill passed. The price tag is closer to $900 billion. But unemployment broke 10 percent in 2009. It might not fall below 9 percent for another year.
Yesterday, Romer announced that she is leaving the White House. With budget director Peter Orszag, she is the second major economic adviser to leave the administration in a month, just as the economy begins to sputter mid-recovery. Critics will almost certainly spin the back-to-back resignations as signs of in-fighting, frustration and failure in Obama's economic team. And maybe there is infighting. The White House should be frustrated. Look at the economy!
But the funny thing to me is that Romer's legacy is this graph, if today's early assessments are any indication. That's a shame, because some folks are saying Romer's graph proves that the stimulus didn't work. That's backward. The stimulus didn't work well enough because the downturn turned out to be steeper than anticipated. Romer was like the offensive coordinator of a football team that put up 28 points and lost 45-28. We built a hurricane-proof roof, and got a tsunami.
If you want to criticize Romer (generally, I think it's difficult to assign blame to advisers whose work is mostly behind closed doors, but anyway...) the place start would wouldn't be the graph, but the stimulus it was designed to promote. Maybe the White House should have opened with a $1.2 trillion stimulus, like Paul Krugman wanted. Maybe it should have focused on tax rate cuts, or used direct hiring instead of contract bids. These are the more interesting questions that historians will focus on, rather than the small critique that she didn't draw a steep enough line.