The Coming Part-Time Nation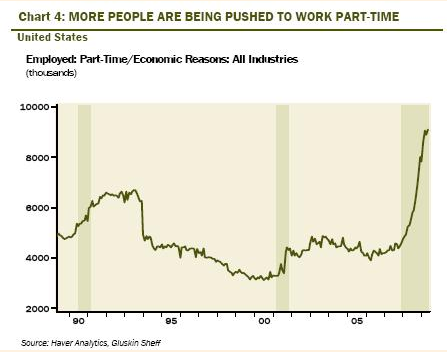 Nine percent of white-collar workers have added a second job in the past year, and another 19% said they intended to take a second job sometime in 2010, according to
a recent survey for CareerBuilder.com
, a career website.

There is a push and pull at play in the part-time phenomenon. The push is purely economic. On top of falling home prices and ransacked retirement plans, middle class breadwinners face frozen hours and wages. Families are often reluctant to move to seek jobs, so rather than migrate, they moonlight. That's one reason why the country's part-time population has doubled in the last two years, and that doesn't even count many freelance jobs that escape counting by the Bureau of Labor Statistics.

But there's also a pull. A part-time nation fits the modern needs of both employees and employers. For employees, elective part-time work often provides a release from the just-a-paycheck job. Demographers have observed that the Millennial Generation -- twentysomethings and people just entering their 30s -- is particularly focused on achieving not only wealth, but also fulfillment. (Whether this is something inherent to Millennials or just a fixture of youth remains to be seen.) As the jobs sector moves away from lifelong company-men toward a horizontally mobile workforce, we should expect part-time to become more mainstream.

A freelance/part-time work force is also gravy for employers. Non-staff workers don't require health care and other benefits, which can automatically increase overall compensation by 25%. Also, they aren't protected by the same workplace rules like wage theft.

News that a third of white-collar workers are considering adding a part-time job is news today, but it might be ho-hum tomorrow. Economic conditions, the character of the workforce and the tight budget of small companies is creating a perfect storm for a part-time nation.