Small Business Optimism Falls to Worrying Level
Small businesses continued to grow wary about the economy in July as their optimism dropped for the second month straight. The National Federation of Independent Business Optimism Index (.pdf) now sits at the lowest level seen this year. This trend is particularly concerning in regard to employment, since these smaller companies are generally responsible for most job growth.
This chart shows why there might be reason for concern: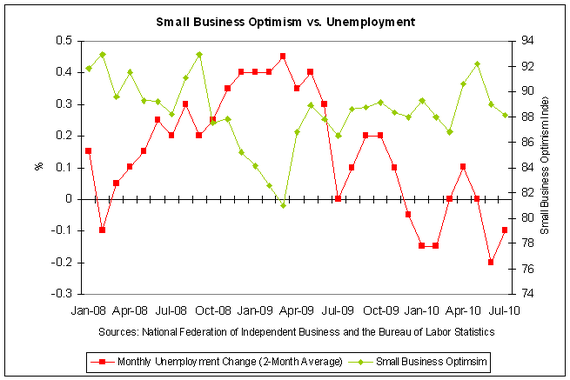 There's a lot going on here. The green line in is the easy part. That's just the NFIB's Small Business Optimism Index. The red line is a measure of unemployment. In particular, it's the two month average of how the rate has changed each month. The averaging helps get rid of some of the noise.
Why should this chart worry you? Focus on the green line -- the Optimism Index. Look at July 2008 through November 2008. Now look at March 2010 through July 2010. These two sections of this line look almost identical. Now look what happened to unemployment starting in November 2008. It consistently rose 0.3% to 0.5% per month for seven months. A similar run from here would result in a national unemployment rate of 12.0% in January.
That's not to say that this will occur. Clearly, there were a lot of other variables at play then and now. But it's definitely a concern that small business sentiment is very similar now to what it was before unemployment began to climb in late 2008.
Most other measures in the report are also discouraging. The NIFB's Outlook for General Business Conditions was particularly terrible. It fell to its worse score since March 2009 and only two months scored worse since July 2008.
The employment plans of small businesses were actually relatively positive, considering the otherwise very pessimistic report. Job openings and planned hiring both increased. Though those gains were very slight:
The single biggest problem for small business continues to be sales, with close to one-third of respondents blaming it for their struggles. The next biggest problem was taxes, followed by government regulations. Although credit is often cited as a major problem by the media, just 4% said that financing and interest rates were their biggest obstacles. Of course, with few of these companies seeing much growth potential due to weak sales, there might not be many looking to get loans to expand anyway. In fact only 18% said they planned a capital expenditure in the next three to six months, the fewest of any month this year. Here are the numbers for the single biggest problem: