Should the Drop in Temp Workers Worry Us?
Friday's unemployment report was disappointing by virtually every measure. But one particularly troubling statistic that I only briefly alluded to was the drop in temporary workers. Generally, the population of temporary workers grows during a recession and wanes once hiring strengthens. Yet, robust hiring obviously isn't here yet. So these workers aren't being broadly replaced (or promoted) to permanent employees at this time. What's going on?
Here's a chart showing temp workers added/lost and total private sector jobs added/lost over the past year: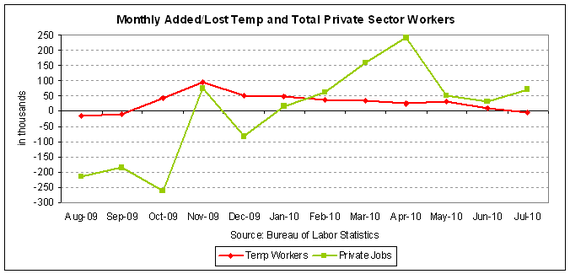 In June, 11,200 temp jobs were added, but in July 5,600 were lost. You can see that temp workers have been consistently falling since November -- but private sector jobs have not been steadily rising since April. The fear is that this implies businesses are laying off temporary workers without hiring permanent replacements, because they're no longer anticipating more demand for their products and services through year's end. This would imply stronger permanent job growth won't happen this year.
But JPMorgan temp sector analyst Andrew Steinerman provides reason not to scream "double dip!" quite yet, via Real Time Economics:
"Temp help generally slows in July during the summer lull, and we look to the post-Labor Day trends to determine the broader trajectory of the temp help fundamental recovery," he wrote in a note to clients. "We still believe that temp help will continue to disproportionately benefit from an uncertain GDP growth environment as companies prefer flexibility in their labor force."
So we should keep an eye on how this statistic changes over the next several months. If it turns positive in September, then July's drop might have just been a seasonal effect. But if it continues to fall, without permanent hiring ramping up, then this would be the sign that the slow labor market recovery has stalled.