Q2 GDP May Be Revised to Near 1% Due to Trade Gap and Other Factors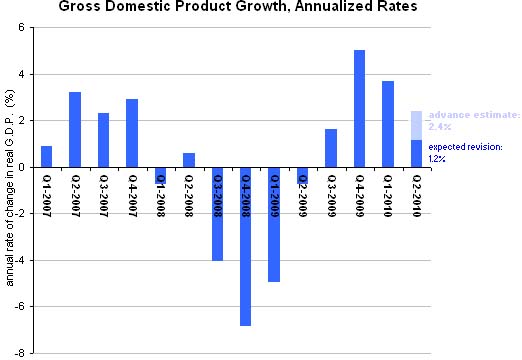 Earlier today, we learned that the U.S. trade gap for June grew by a staggering 18.8%. That was dramatically worse than the 0.6% increase that economists expected. But it also implies that GDP for the second quarter, which includes June, will probably get a pretty major downward revision. You may recall that the weak 2.4% growth was due in large part to the trade deficit. According to John Ryding and Conrad DeQuadros at RDQ Economics, via Real Time Economics, this along with the weak construction and inventory data will significantly lower GDP:
"The wider-than-expected trade gap points in itself points to a 0.4 percentage point downward revision to GDP growth, which needs to be added to the 0.8 percentage point estimated downward revision coming from construction and inventories. Added together, these revisions at this point suggest second-quarter real GDP growth will barely be above 1% (call it 1.1%-1.2%)"
A GDP revision from 2.4% to between 1.1% and 1.2% is just devastating.
Read the full story at Real Time Economics.