Productivity's Growing Streak Ends with a 0.9% Decline
After five quarters of growth, worker productivity fell in the second quarter by 0.9%, according to the Bureau of Labor Statistics. Even though this news sounds bad, there might not be any reason to worry yet. Productivity can't grow as steeply as it has recently forever, so a decline was inevitable. Indeed, economists expected it to fall by 0.4%, so the reported decline was only a little lower. Yet it might have been better if unemployment had declined more before productivity began falling. Let's take a closer look at today's numbers.
First, it's useful to see just how steeply productivity had grown since the first quarter of 2009: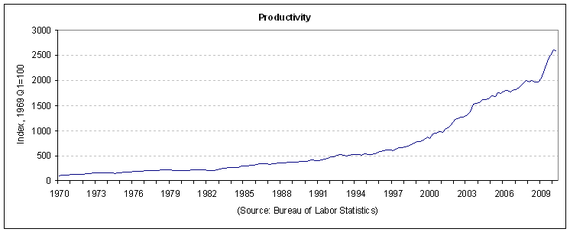 You can see how much more quickly this rise was than what was seen historically. This sort of growth isn't sustainable. Despite the small quarterly decline, productivity remains quite high.
In the context of recession-driven unemployment, productivity growth is normal. This indicates that businesses wait to hire more workers until they're more confident that a recovery has begun. You can see this in the following chart, which shows the unemployment rate and the rate of productivity growth (or decline):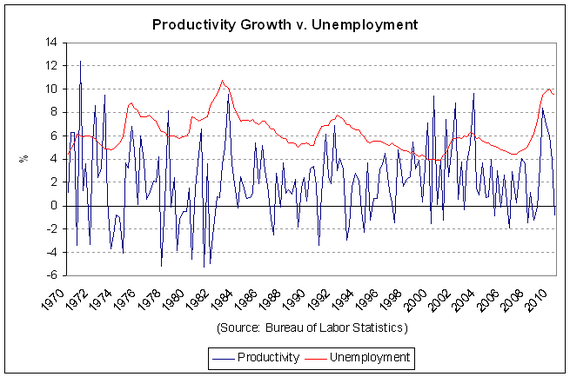 Wherever you see a peak in the red unemployment line, you can usually spot a peak in productivity nearby. In fact, as unemployment declines, so does productivity. Productivity growth has been steadily declining since the first quarter of 2009, but it went negative in the second quarter of this year.
This happened little more quickly than some had hoped it would. Productivity is the ratio of economic output and hours worked. In this case, output grew by 2.6%, but hours worked grew faster, by 3.6%. This resulted in the decline for productivity. It does make sense that hours worked have been increasing, since unemployment has declined from its highs that exceeded 10% to 9.5% in June.
While productivity's decline isn't necessarily a cause for deep concern yet, the report also indicated that unit labor costs are increasing. That's not good. They rose by 0.2% in the second quarter, making for the first increase in a year. Here's how those have changed: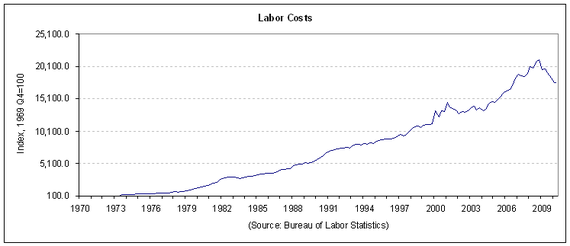 While labor costs couldn't decline forever, the fear is that they've begun increasing at a time when employers are already slow to hire. They rose last quarter because productivity fell more quickly than hourly compensation, which fell by 0.7%. That was also the first decline in hourly compensation since the first quarter of 2009.
So this news isn't great, but again, we'll have to wait another quarter or two to understand what it really means. Although some economists may have hoped that unemployment would be lower before productivity began declining, it couldn't exhibit such strong growth forever. The Q2 drop might just indicate that it has begun to plateau as the slow labor market recovery begins to increase the number of hours worked.