Pending Home Sales Down 2.6% in June
Yet another indicator reported today shows that the housing market continues to contract this summer. June pending home sales fell by 2.6%, according to the National Association of Realtors. Although the month's drop was far less severe than May's drastic 29.9% decline, it implies that the market may have further to fall before hitting bottom.
Here are a few charts that show the big picture. Let's start with NAR's index since the end of 2008: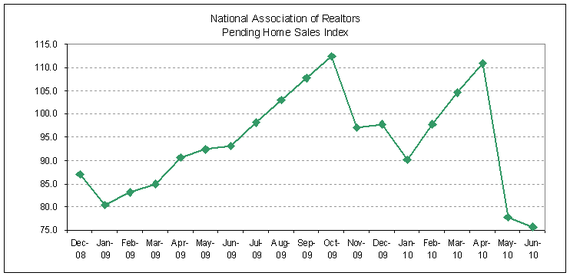 You can see that, in June, the index fell further below the lowest point over this time period. Then, the month-over-month change: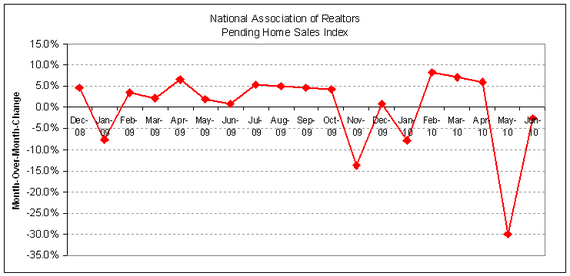 Again, pending sales didn't fall nearly as far as they did in May, but when the housing credit was in full force there hadn't been two straight months of contraction. Without its support, however, demand has taken a major hit.
Since pending sales is forward-looking, this implies that it has been, and will continue to be, a painfully slow summer for the housing market. This data accounts for new contracts, not closings. Here's NAR chief economist Lawrence Yun's positive spin on things:
"There could be a couple of additional months of slow home-sales activity before picking up later in the year, provided the job market continues to improve," he said. "Over the short term, inventory will look high relative to home sales. However, since home prices have come down to fundamentally justifiable levels, there isn't likely to be any meaningful change to national home values. Some local markets continue to show strengthening prices."
Yun is probably right about national home price levels, but this isn't necessarily true for all areas. In more troubled regional housing markets, people might not be convinced that home prices have reached the floor. Instead, they could view the housing credit as having temporarily stopped the fall, which can now resume without that government support. As inventory grows in such locations, and buyer demand remains weak as employment struggles to rise, it's hard to see how prices could endure. At best, banks might intensify efforts to hold back foreclosures from hitting the market throughout the summer, which could artificially reduce inventory and prevent a freefall in prices.