Parents Overwhelmingly Support Merit Pay for Teachers
From an economic standpoint, merit pay is generally regarded as a pretty effective tool to enhance worker performance. But it isn't easy to apply it in all settings. Case in point: education. Teachers' unions argue that basing pay on standardized testing will just cause teachers to gear lessons to the tests rather than aim for general knowledge and deeper learning. Yet, a new Gallup poll shows that parents overwhelming support merit pay for teachers. Here are the results: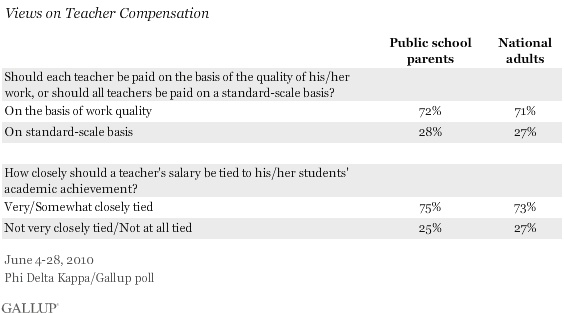 It's pretty hard to get 70+% of Americans to agree about pretty much anything, so this is a rather staggering result. Of course, the powerful teachers unions won't likely be swayed. But if a better framework can be developed that doesn't rely on standardized tests, proponents of merit pay might be able to make more progress.
Read the full story at Gallup.