New Home Sales Fell 12.4% in July
The month's pace marks a new record low.
After a terrible existing home sales report for July, the new home sales aren't any better. They declined 12.4% from June to the annualized rate of 276,000 last month, according to the Census Bureau. Due to an upward revision of 14,000 to May's number, July's sales are now the lowest since the government started keeping records in 1963. June's pace was revised downward by 15,000. Unlike with existing sales, it's harder to purely blame the expiration of the home buyer credit on the low number of new home sales.
Let's start with the chart: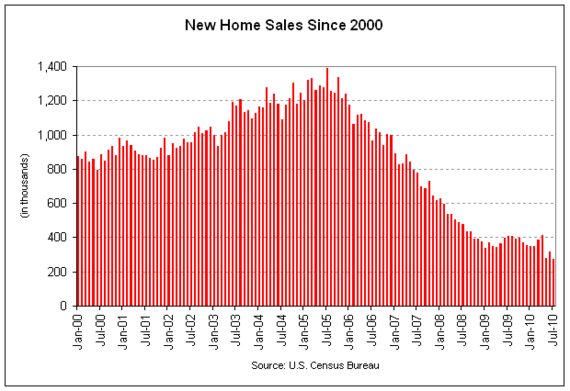 As you can see, new sales have taken quite a fall since the height of the bubble. At its peak, the pace was more than one million higher than what we're seeing now.
To be sure, the home buyer credit is partially to blame here. Due to a lag in timing, July was the first month that existing sales fully felt its expiration. But for new home sales, the credit's absence has been taken into account since May -- when new sales fell by 32.1%. Two months later, they're even lower. From May through July, annualized sales averaged 291,000.
In a sense, this news is both good and unsurprising. There's currently a huge inventory of existing homes, which will continue to grow as demand slumps and foreclosures remain high. Adding new homes will just make it harder to draw down inventory, which will continue to put downward pressure on home prices. Since there's so many deals to be had on existing homes through foreclosures and short sales, they are also likely more attractive to many buyers than new homes. So we can expect to see new sales remain relatively low as many homeowners struggle to pay their mortgages.
But the bad news is that construction jobs will have hard time rebounding as long as people don't want new homes. They've fallen by more than 2 million since 2006. If new homes sales remain low, then the population of jobless construction workers could grow even further.