Jobs Decline by 131,000 in July, Unemployment Rate Steady at 9.5%
The job market has been stagnant so far this summer. Although the U.S. economy lost 131,000 net jobs in July, that was due in large part to a loss of 143,000 temporary government Census workers. The net number was worse than the 60,000 lost economists expected. Meanwhile, the unemployment rate was unchanged in July at 9.5%, reports the Bureau of Labor Statistics. The number of unemployed Americans also remained at 14.6 million. Today's report shows just how week the job market has been over the past few months, with a significant downward revision to June's jobs number.
Let's start off with the unemployment rate chart: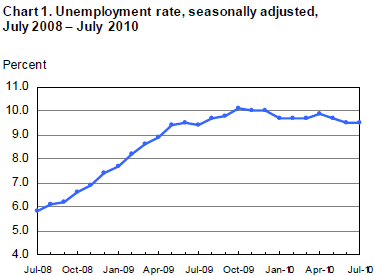 Clearly, we're having some trouble moving the rate below 9%. It has been 9.4% or higher since May 2009.
But as mentioned, the really bad news comes in the form of the jobs created -- or lack thereof -- since May. Here's the official chart:
Check out June. It was revised to 221,000 jobs lost from 125,000. That's a pretty terrible revision.
The Census has been skewing jobs data all year, however. Here's a chart that takes it out: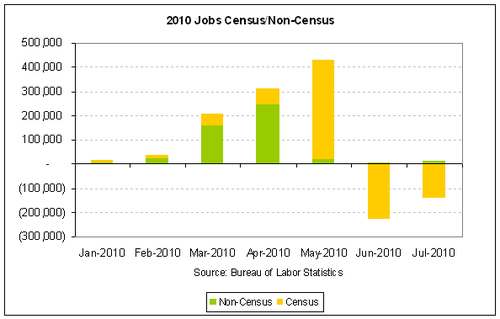 The green bars are what matter here. This shows how many non-census jobs the economy has created this year. As you can see, the already weak job market recovery fell off a cliff in May and hasn't returned. The last three months have averaged just 12,333 jobs created, if you exclude Census effects.
But government jobs have also been affecting the numbers. States have been laying off a lot of workers as they struggle with their budgets. So it's also useful to look at just private sector hiring. Here's how that's been in 2010: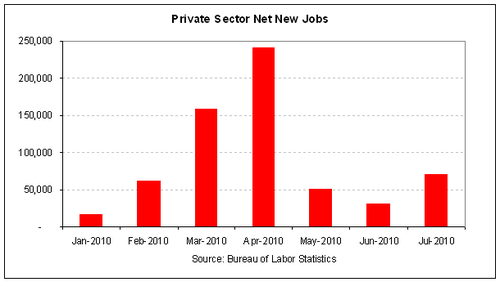 So this is a little bit better. The private sector has pulled back since April, but not quite as drastically as the broader data indicates.
On an industry basis, it's pretty clear that most of the private sector jobs in July came from manufacturing and healthcare -- which can account for almost 90% of the new net jobs number. Here are some highlights: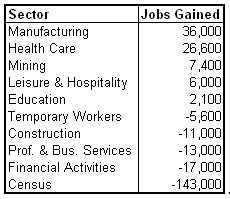 One striking observation from this chart is the decline in temporary workers. This is worrying. They had been growing since the unemployment rate began to decline. This month's drop could imply that some firms are going from tentative hiring -- through temp jobs -- to a more pessimistic view of the future. That would then result getting rid of those temporary workers.
Separately, it's also pretty disappointing to see a contraction in Professional & Business Services jobs and so little Leisure and Hospitality job growth. Both categories had a decent showing in June with combined job creation of 44,000. These are two industries where strong growth would indicate that the recovery has taken hold.
Looking at broader measures of unemployment is also helpful. Discouraged workers, not included in the reported unemployment rate, declined slightly in July, by 22,000. Here's the chart: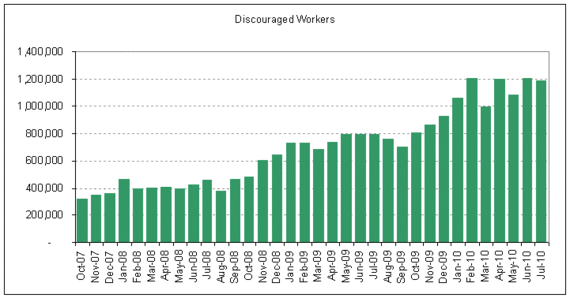 They still remain very high, at around 1.2 million. The broadest rate of underemployment, "U-6" -- which includes discouraged and marginally attached workers, as well as those forced to work part-time, remained unchanged at 16.5%.
If anything, seasonality helped July's numbers look better. The seasonally unadjusted unemployment rate rose slightly, to 9.7%, from 9.6% in June. Here's a comparison of the two measures: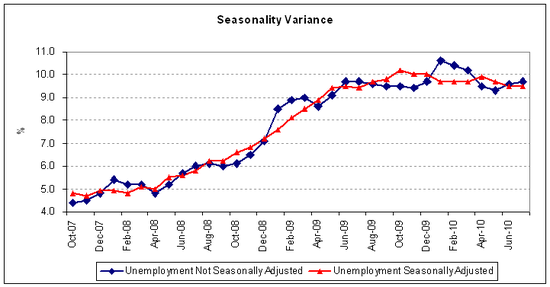 Expect those lines to cross again in August, which could mean that the rate goes back up a bit, unless additional jobs are created.
Overall, today's report shows a very disappointing summer for job growth. The narrative here isn't one of a double dip -- yet. It still looks like a very slow recovery. The private sector is adding jobs consistently, just at a very low rate. If Americans manage to maintain some confidence despite the poor headline numbers, then the U.S. could stay on its current path of sluggish job growth. But if the consumer pulls back further and demand declines, then firms may feel like more layoffs are necessary, which could lead to the ever-dreaded double-dip.
As for our monthly unemployment poll, readers' success was again mixed. Only 5.8% correctly predicted the rate would remain at 9.5%. But 32% got jobs right, guessing somewhere between 100,001 and 200,000 net jobs lost. If anyone got both -- well done!