ISM Says Service Sector Expanded in July
In a small dose of good news about the U.S. economy, services improved in July, according to the Institute for Supply Management. Although economists expected its NMI/PMI index to decline slightly last month to 53.6%, it actually rose to 54.3%. This is a small rise, but by looking at the individual components, you can see how much better July looked than June.
Here's the chart that ISM provides, along with columns for June and some color coding I added to make things a little clearer: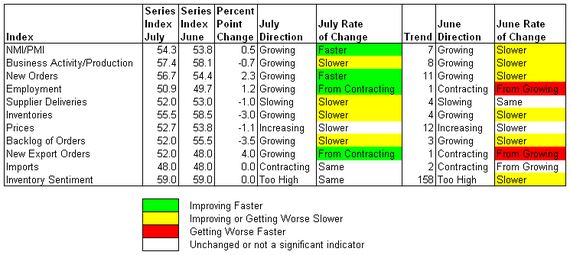 So think of green above as really good news and yellow as pretty good news. Red, on the other hand, is bad. (I excluded prices and imports from the analysis because they aren't very clear drivers of service sector business prospects and sentiment.)
You can see a drastic difference here between July and June in terms of how the components were changing. In July, two categories shifted from contracting to growing, and two began growing faster. Meanwhile, none were contracting faster. In June, however, no category was improving faster, and a few went from growing to contracting.
Moreover, some of the specific categories that are improving are pretty important aspects of business. New Orders, employment, and new export orders are very significant -- and are all growing more quickly. While the changes for these categories aren't huge, they are definitely headed in a better direction.
This service sector data shows a tiny bit of optimism in one of the early reports for July. This industry is often slow to recover as consumers and businesses cut less essential services from their budget. As a result, today's data could provide a glimmer of hope for a strengthening recovery.