Is the President's Big Tax Reform Report DOA?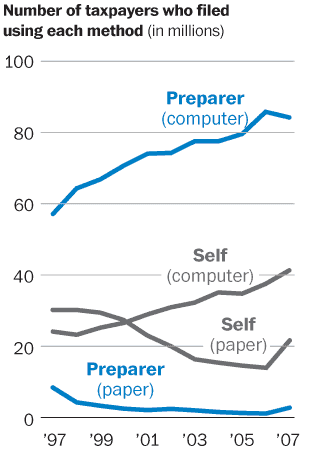 Every year, America spends the equivalent of 860,000 years doing taxes, according a new tax reform paper from a White House-selected panel of economists and business leaders led by former Fed Chair Paul Volker.
I'll work and blog my way through the report through the week, but in the meantime, Howard Gleckman of the Tax Policy Center has already done the homework. He says the 100-page report is less like a roadmap and more like a comically ambivalent GPS system that tells you: "You could turn right now. It would be better than going straight, which is a really bad choice but, on the other hand, the road might be a little bumpier and besides, you could also get where you want to go by turning left three blocks from here. So I'm not actually recommending what to do."
Since the president prohibited the board from considering tax increases below the bright white line of $250,000, most of the recommendations begin with the word simplify. It also looks at compliance with federal income taxes and exhaustively catalogs the impact of changes to corporate taxes.
There's no question that the tax code has become unwieldy. Lawmakers have made more than 15,000 changes since the last reform in 1986. The question is whether Washington, and the public in general, cares enough to support a major tax overhaul.
As the WaPo chart above shows, computer tax filing has steadily increased by 70 percent in the last decade so that only about 25 million people relied on paper filing in 2007, about a sixth of all tax payers. Technology is not only solving tax complexity, but also it's neutering the will to do simplify the tax code. Americans don't like dealing with the burden of taxes, but we've already outsourced that burden to the H&R Blocks and TurboTaxes of the world.
The report comes with a caveat: "The report does not represent Administration policy." Whether that's standard disclosure or not, Treasury recently told a group of econobloggers that there was no appetite in Washington for major tax reform on par with 1986.
Source: Washington Post