Is the Buyer Credit Really To Blame for Poor Home Sales?
There are two interpretations of the very bad July sales numbers released this week for new and existing homes. The first is to proclaim that they show sales will be much lower for an extended period because buying fatigue paired with concerns about the economy have sapped demand. The second is to view the numbers as a temporary blip due to the expiration of the home buyer credit and assert that significantly more homes will be sold this fall. To understand which is right, it might help to look at whether actual home buying demand has begun to recover much since the credit expired in April.
In fact, we have a pretty good measure of consumer demand for homes and nearly four months of data with which to work. The Mortgage Bankers Association provides weekly mortgage application data for purchases. If we see those numbers trending up, then it's likely that sales are increasing as well. It should be noted, however, that this data reflects only applications -- changes in actual sales could be higher or lower, depending on whether those applications result in sales.
Let's start with the historic chart: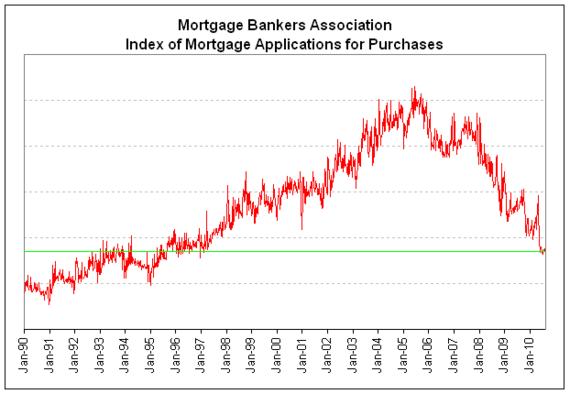 You can see the giant drop off after the buyer credit expired in April as the steep vertical drop. The green line shows the number of mortgage applications during the week ending August 20th. They remain at 1997 lows nearly four full months after the home buyer credit expired.
It helps to zoom in a little. Here's the same data, but only since the week ending March 5th, where the index value is set to 100 and applications were approximately at their January through April 2010 average, when the credit was in place.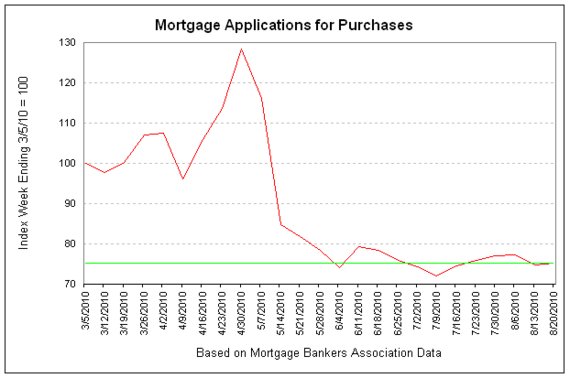 You can see that, even ignoring the aggressive levels hit right before the credit expired in April, home buying demand has been off around 25% without the credit's support. And remember, that's compared to the still historically weak demand during the early part of 2010.
When the National Association of Realtors released its existing home sales data on Tuesday, chief economist Lawrence Yun said:
"Consumers rationally jumped into the market before the deadline for the home buyer tax credit expired. Since May, after the deadline, contract signings have been notably lower and a pause period for home sales is likely to last through September."
There are two ways to interpret this. The first is that the existing home sales numbers that the NAR reports in October will be a lot better. The data already shows that won't likely be the case, since there is about a two-month lag between the mortgage applications data and finalized existing home sales as reported by NAR. Since very low purchase applications have endured through at least two-thirds of August, we won't see much higher sales numbers from NAR until December, at best. That's when it reports November numbers, which would reflect mortgage applications from September.
The second interpretation is that Yun is talking about sales initiated in October, which would mean we'll finally see a better existing home sales report from NAR in January 2011. But again, the data above reflects mortgage purchase applications through two-thirds of August, and they haven't recovered. As a result, it seems likely that sales will remain at or below the four million annual pace through this month. Is it really plausible that just six weeks after the most recent data above, sales will have risen by more than 25% to exceed the five million per year pace as Yun appears to imply?
You can decide for yourself whether or not you find even the more generous interpretation of Yun's claim above likely. But it's definitely possible that the enduring weak demand of the mortgage bankers data implies that the level sales fell to after the buyer credit expired might not be a blip, but is more likely a new normal. Sales will likely rise a little later this year, but very low sales could persist for as long as unemployment remains high and Americans feel nervous about the economy. Even though mortgage interest rates continue to hit incredible all time lows -- now at just 4.36% -- purchases still are struggling to rise. This shows that people just don't want to buy houses right now, even at the lowest rates they may see during their lifetime.