iPhone 4 Users Aren't Fans of AT&T
As the rumors of a Verizon or T-Mobile iPhone continue to grow, some analysts question whether or not AT&T's iPhone exclusively really matters. Anecdotal evidence would suggest that it does, since every iPhone users I know constantly gripes about AT&T's network. But some more concrete statistics would be nice -- and that's exactly what a ChangeWaveResearch study provides. It shows that nearly three-quarters of new iPhone 4 owners polled said what they dislike most about their new device is being forced to use AT&T, its network quality, or all the dropped calls. Here are the survey results on this question: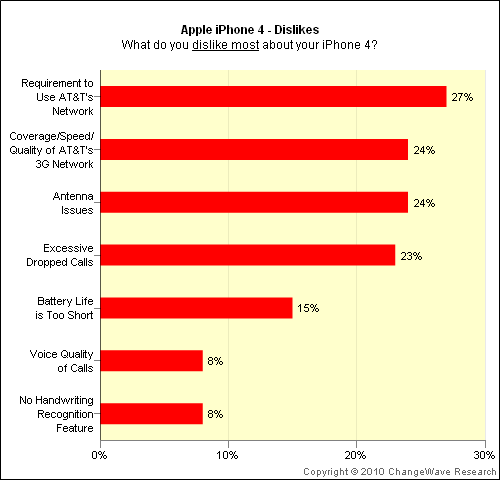 The research firm also asked other fun questions, like what people liked most about the phone ("FaceTime" came in last).
Read the full the results at ChangeWaveResearch.