Interpreting the Second Quarter's Drop in Mortgage Delinquencies
Earlier this week we learned that sales of new and existing homes were extremely low in July. But this news alone doesn't provide a full picture of the housing market -- it only shows the demand side. There's also the supply side to consider. Will foreclosures continue to increase housing market inventory?
You could attempt to answer this question by looking at foreclosure trends. But those numbers can be skewed pretty significantly. Banks can hold back foreclosures, increasing their shadow inventories to reduce the number of foreclosures. A purer glimpse of homeowner health can be found by analyzing the latest delinquency statistics. The Mortgage Bankers Association released this data for Q2 today. The results are somewhat mixed.
Overall, residential mortgage delinquencies declined in the second quarter, to a rate of 9.85% from 10.06% in Q1. MBA's data reveals that delinquencies ticked down for all mortgage types except for Federal Housing Authority loans. That's good news for banks, but bad news for the government agency.
Another important way to consider delinquency is by severity. The MBA also provides data for the stages of delinquency. Those include loans 30 to 59 days past due, 60 to 89 days past due, and 90 days or more past due. Here's a chart showing that data since 2006: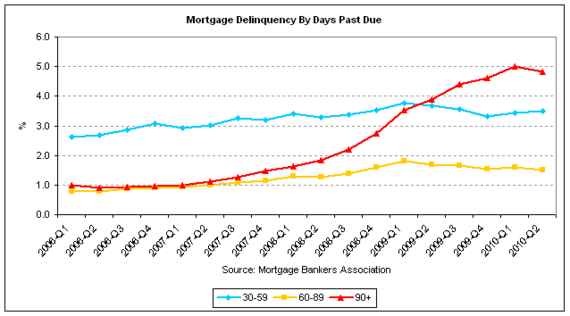 The decline in 90 or more days past due is a really good sign. Loans this delinquent are generally on the verge of foreclosure. This decline is the first the MBA has seen for this stage since the housing market's troubles began. One potential explanation for the decline could be banks ramping up foreclosures, but they aren't. According to MBA report, foreclosures also fell in the second quarter, to 1.11% from 1.23%. Because additional foreclosures aren't driving down severe delinquencies, the only other explanations are that these loans are becoming current, either through borrowers resuming payments or receiving mortgage modifications, or paid off through sales.
The chart above also shows that loans 60-89 days past due declined slightly last quarter, but there was an increase in loans 30-59 days past due for the second straight quarter. Jay Brinkmann, MBA's chief economist attributes this rise to two factors:
First, 30-day delinquencies are very closely tied to first-time claims for unemployment insurance. The number of first-time claims fell through most of 2009 but leveled off in 2010 and have started to rise again. This increase in unemployment directly impacts mortgage delinquencies. Second, some percentage of the loans modified over the last several years have become delinquent again because those borrowers, by definition, have weak credit.
While the overall decline in delinquencies is good, Brinkmann's comment suggests that the trend might not last. First, most reports show that the labor market has worsened since the second quarter ended in June. There's also no reason to believe that modification re-defaults should decline much.
In fact, the sour demand for homes could also pose a problem for delinquencies. One of reasons why delinquencies declined was because sales were relatively strong during the beginning of the second quarter. The buyer credit drove some Americans to purchase homes which had mortgages that were in trouble, often through short sales. With demand much weaker without the credit, sales won't help drive down delinquencies much in the third quarter.
So today's news of lower delinquencies is definitely good. But it's pretty plausible that coming quarters won't fare as well if the jobs picture fails to improve and housing demand remains low.
Note: I removed a delinquency chart, because MBA does not allow journalists to reproduce the charts contained in its report.