How Bad Was July's Plummet in Home Sales?
The housing bears were right: existing home sales fell off a cliff in July. As my colleague Megan McArdle just noted, they sold at an annualized pace of 3.83 million, down by 27% versus June and 26% below July 2009, according to the National Association of Realtors. This is the lowest rate since NAR began keeping track of monthly sales in 1999. It's also far worse than the rate of 4.7 million sales that the market expected. To understand just how bad July was for home sales, let's look at some charts.
First, here's existing sales since the financial crisis: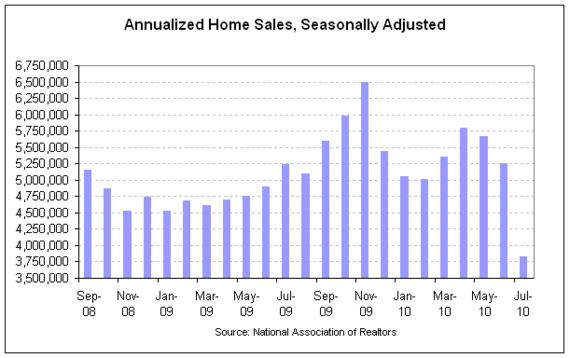 At no point, even when the recession and crisis were at full strength, were existing sales nearly so low -- they never even dipped below 4.5 million. If you look at how wild existing sales were during the housing bubble, then July's number looks even more painful: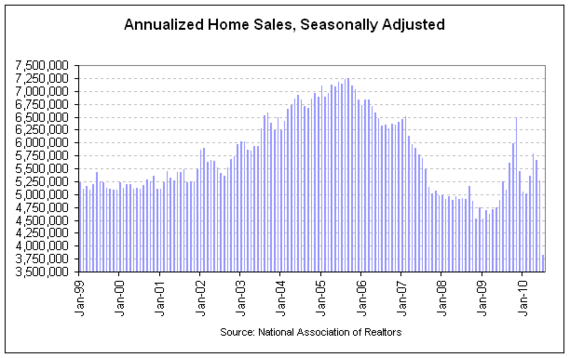 That tiny bar to the far right is July. During the height of the bubble, sales were around twice what they were last month. And as you can see, as long as the NAR had been keeping records, no month had been close to this low.
July reflects the first month when existing home sales received no benefit from the home buyer credit, which partially explains the huge drop. But the numbers also make clear that demand for homes is extremely weak at this time, despite very low mortgage rates.
Inventory also increased in July, for the first time in two months, by 2.5% to 4.0 million homes. Here's the chart: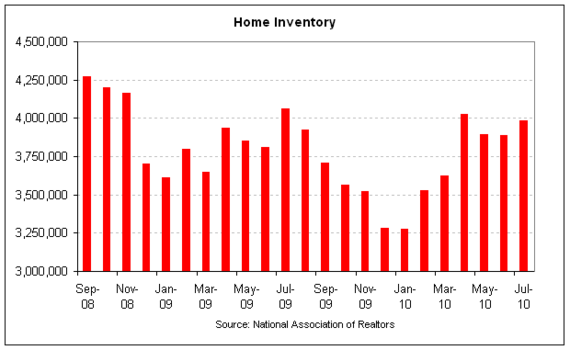 This is the second highest inventory in a year. The number of months it would take to sell the current supply of homes also swelled in July to 12.5, which was a huge jump compared to June's rate of 8.9. It's also nearly double November's rate of 6.5. Given the low rate of sales this summer and consistently high foreclosure rate, inventory will likely continue to grow.
This is a really, really bad report. The awfulness of July's sales were a little exaggerated due to all of the demand having been pulled forward form the buyer credit. But it's unclear how many months of demand were captured early by the credit, so it's hard to know when its effect will wear off. But here's the positive spin from Lawrence Yun, NAR's chief economist:
"Consumers rationally jumped into the market before the deadline for the home buyer tax credit expired. Since May, after the deadline, contract signings have been notably lower and a pause period for home sales is likely to last through September."

"However, given the rock-bottom mortgage interest rates and historically high housing affordability conditions, the pace of a sales recovery could pick up quickly, provided the economy consistently adds jobs."

"Even with sales pausing for a few months, annual sales are expected to reach 5 million in 2010 because of healthy activity in the first half of the year. To place in perspective, annual sales averaged 4.9 million in the past 20 years, and 4.4 million over the past 30 years."
If you follow mortgage purchase applications, then you know that the record low rates haven't caused much of an uptick in sales. In fact, mortgage purchase applications declined by 3.4% last week. So Yun's optimism is noted, but there's definitely a possibility that existing sales won't hit the 5 million mark this year, despite the relatively strong first half.
Update: As a commenter rightly noted, the charts above don't start at zero, which can distort the actual magnitude of sales and inventory. I find that adjusting the ranges to the data allows to better see movement and trend, which is why I generally do so -- not to sensationalize. But here are the charts with vertical axes that go to zero, just to make sure no one is unintentionally misled.