Home Prices May Drop Another 25%
With all the talk of the awful sales numbers for both existing and new homes in July, there was one small kernel of seeming good news: existing home prices rose slightly. The national median home price actually increased by 0.7% last month compared to a year earlier, according to the National Association of Realtors. But don't expect this trend to continue -- prices still have a ways to fall before they settle at their natural level.
Several weeks ago, Barry Ritholtz posted the following chart. It was originally featured by the New York Times, and updated by a commenter to Ritholtz's blog named Steve Barry.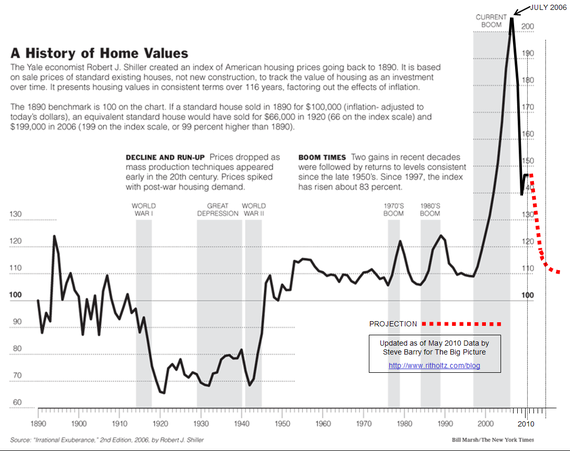 This is a pretty fascinating picture. First, it shows just how incredibly absurd the housing boom was. Beginning in the 1940s, inflation-adjusted homes prices have settled around the 110 value according to the Case-Shiller index. Yet, the index value exceeded 200 in 2006. Prices began a descent when housing collapsed, but as of May the index remained well above the natural value of 110.
Eyeing the chart, the value looks to have hit around 147 in May. For it to drop back down to 110, home prices would have to decline another 25%. That's still a pretty long way to fall.
Of course, inflation could help it get there. If the price level does rise in the years to come as some economists expect, then even if home prices remain constant, inflation-adjusted values will be lower. That will provide little consolation to current homeowners, however, as their house's relative value as an investment will be lower than alternative investments that kept with or exceeded the rate of inflation.