Home Builders Index Continues to Fall in August
As the housing market struggles to gain its footing, home builders aren't feeling very optimistic about their prospects. National Association of Home Builders/Wells Fargo Housing Market Index (HMI) has fallen another point to 13 this month. That is the lowest since March 2009 and marks the third consecutive month of decline.
Here's the chart for HMI: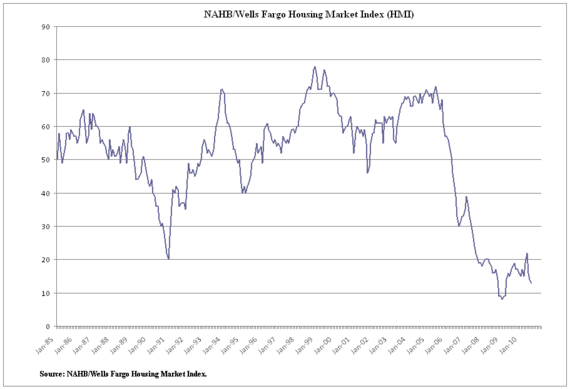 It's hard to see if from the graph, but the value of 13 is pretty significant. Only one other period of time in the chart shows the value sink below 14. That was the span of five months between November 2008 and March 2009, when it remained between 8 and 9. Although the index isn't back into the single digits yet, August's reading is very low.
This trend is particularly bad news for the labor market. Another 11,000 construction jobs were lost in July. Since the beginning of the recession over two million jobs have been lost in the construction industry, many of which were specific to residential building. As long as home builders feel their market is getting worse, there's little chance they'll ramp up hiring. In fact, if this trend continues, more construction jobs will likely be shed.