Denmark's Unemployment Benefits System, and Ours
The news that Denmark is shrinking its famously generous social net is going to make some people wonder why the United States doesn't try the same. But dig into the story, and you see that the Danes' generosity makes the Obama administration look positively close-fisted.

Copenhagen's budget is half of GDP, whereas U.S. federal spending has stretched to nearly 25% in downturn. Unemployment payments in Denmark pay a considerably higher percentage of lost wages than the U.S., and they are being cut from four years in duration to two years -- a few weeks more than our extended 99-week system.
Some conservatives argue that unemployment benefits extend unemployment because they are, in fact, subsidizing joblessness. I don't think that's the case in the United States today, but in the interest of intellectual honesty, it's worth pointing out that it might be the case in Denmark. Liz Alderman of Economix passes along this chart showing that the percent of unemployed who transition to work or self-employment increases by a factor of six or seven at the end of the 4-year right to benefits: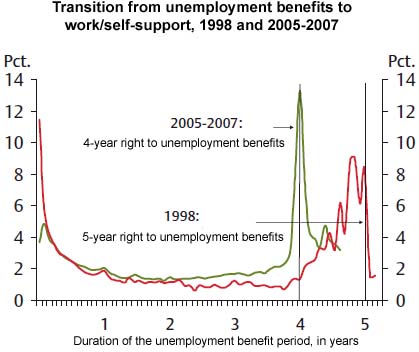 As a coda, this is pretty remarkable statistic:

Each year, a remarkable 30 percent of Danes change jobs, knowing the system will allow them to pay rent and buy food so they can focus on landing a new position. About 80 percent belong to unions, which manage the workplace, help run the unemployment insurance program and press the laid-off into retraining.