Credit Card Performance Improves
Americans continued to pay down their credit card debt in the second quarter, according a new report from credit tracking firm TransUnion. And although unemployment remains very high, card delinquencies are slowing as well. Both of these trends are quite good news for the fiscal health of the U.S. consumer.
Balances At An Eight-Year Low
The average balance for bank-issued credit cards declined to $4,951, a 4.1% decrease compared to the prior quarter. The balance is also 13.4% lower than Q2 2009. Last quarter marked the first with an average balance below $5,000 since the first quarter of 2002.
It's pretty clear that Americans are aggressively reducing their credit card debt. This sounds great from a fiscal responsibility standpoint. Of course, it also means that that they could be spending this money to stimulate the economy instead of paying down their debt. So while the trend is great for the long-term, it makes the recovery a little more difficult in the short-term.
Delinquencies Down Broadly
The percentage of borrowers 90 days or more delinquent on their credit cards declined to 0.92%. This is the most serious stage of delinquency, when companies generally begin assuming the account will result in a loss. Q2's rate represents a 17.1% decline compared to the first quarter, and a 21.3% year-over-year decrease. These are pretty significant improvements.
TransUnion provides this nifty map, which you can interact with here: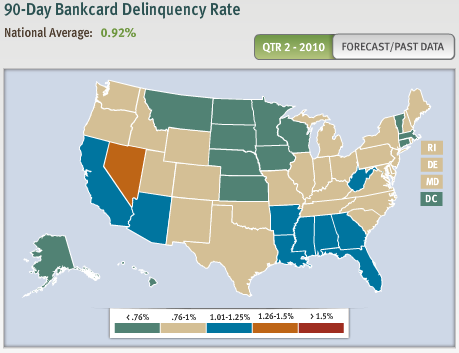 It's easy to see from this map that Nevada had the highest delinquency rate at 1.5%. Florida and Arizona followed at 1.24% and 1.11%, respectively. North Dakota, South Dakota, and DC had the lowest delinquency rates -- 0.54%, 0.55%, and 0.61%, respectively.
Here are a few additional interesting bullet points from the press release:
The highest state average credit card debt remained in Alaska at $7,148, followed by Tennessee at $5,654 and Hawaii at $5,594.
The lowest average credit card debt was found in Iowa ($3,792), followed by North Dakota ($4,097) and West Virginia ($4,104).
On a year-over-year basis, national credit card originations dropped almost 6.5 percent.