Consumer Credit Down Again in June, Sort Of
Consumer credit contracted again in June according to the
Federal Reserve
. It was down 0.7% to $2.418 trillion. That decline was driven again by revolving credit (like credit cards), which fell by 6.5%. It has now declined for 21 months straight. Non-revolving credit (like
mortgages and
auto loans) actually grew, however, by 2.4%. But June's results are a little misleading.
In fact, the prior estimate for May's total credit was $2.415 trillion. But a significant revision brought it up to $2.420 trillion. That still registered a decline of 2.6% for the month, but not the 4.5% drop that was initially reported. Most of that revision came in the form of non-revolving credit, which grew by 1.4%, instead of declining by 1.4%, as the first projection indicated.
Here's the latest historical chart for credit: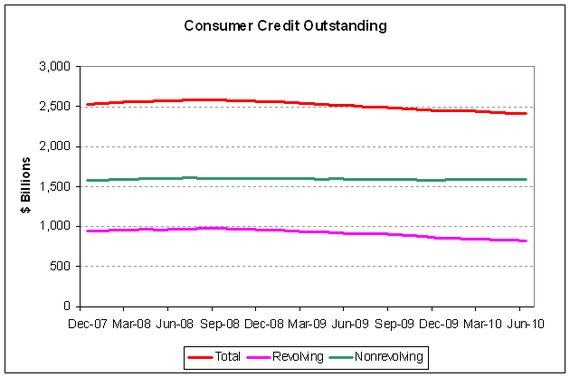 So credit is still declining overall -- just not as quickly as we thought. And despite the relatively stagnant housing market, non-revolving credit is finding a way to rise, now for two months straight. It's up by $5.0 billion from May through June. Over the same period revolving credit fell by $11.6 billion, however.
As for major holders of credit, most saw their balances decline. Only two held more consumer debt in June. Finance companies had a very slight rise, while the federal government continued to ramp up its holdings of consumer credit. The U.S. government increased its portfolio by $5.5 billion, or 2.47% during the month.
In short, consumers are continuing to pay down their revolving debt, though a little more slowly in June than in May. But non-revolving debt has actually been rising over the past two months. On a net basis, however, credit continues to decline.