Construction Spending Flat in June, May Revised Down
In yet another squarely mediocre result, construction spending was essentially flat in June. It rose slightly by 0.1% from May, according to the Census Bureau. Considering that housing starts fell by 5.0% in June, a much better result probably couldn't have been expected. In fact, economists predicted a 0.8% fall, so a slight rise doesn't sounds so bad. But the report also revised down May's monthly change significantly, from a 0.2% decline to a 1.0% drop.
Here's the historical chart: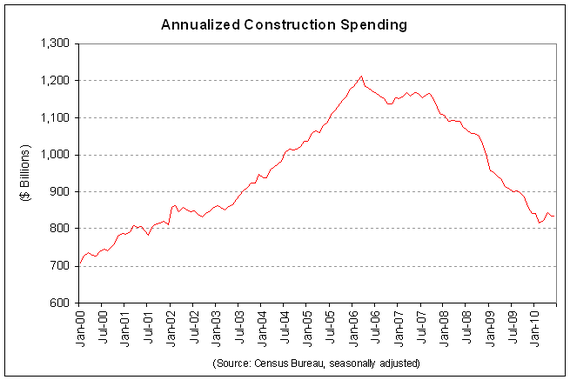 You can see that it's settling in the $835 billion ballpark, which is pretty low compared to what was seen over the past decade.
If you look at the components of construction spending, you also quickly find that public spending drove June's slight rise. Private construction spending was actually down by 0.6% compared to May. Public was up 1.5%. Both measures were down compared to June 2009, by 10.0% and 4.1%, respectively.
While June's result could have been worse, it certainly doesn't suggest that much job growth would be needed in the construction industry at this time. Considering that the sector has lost more than 2 million jobs since the housing bubble reached its climax, that's not a good sign for the labor market recovery.