Combined Big 7 Auto Sales Up in July
The largest auto companies generally had a pretty good July. Of the big seven (GM, Ford, Toyota, Honda, Chrysler, Nissan, and Hyundai), five posted gains compared to a year earlier, and combined their sales were up 3.6%. All except for Ford did better last month than June, with month-over-month aggregate sales up 6.6%. But Toyota and Honda continued to concede market share, while Hyundai and Nissan picked up much of what they left behind.
Here's a chart showing the change in sales from last month to July 2009: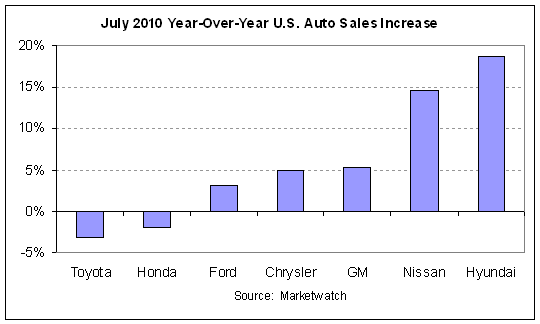 You can see by this just how well Nissan and Hyundai are doing, and the struggles of Toyota and Honda. The U.S. auto companies are showing modest improvement.
Here's another chart, comparing July sales to June: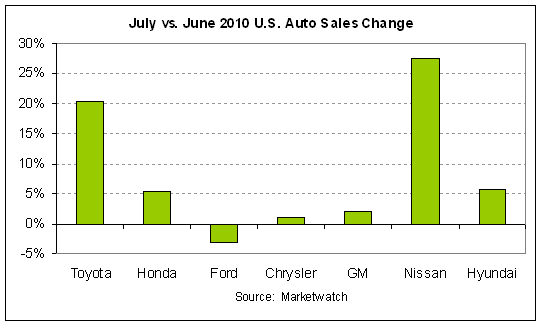 Here, Toyota's sales looks quite a bit better, but still not as good as Nissan's sales. Hyundai's sales also grew more than Honda's sales from May to June as well.
Here's a pie chart showing market share for this universe of seven:
So GM, Ford, and Toyota remain the big three. But the dominance of a few of them continues to be threatened. This chart shows how the market share of this universe of automakers has changed since July 2009: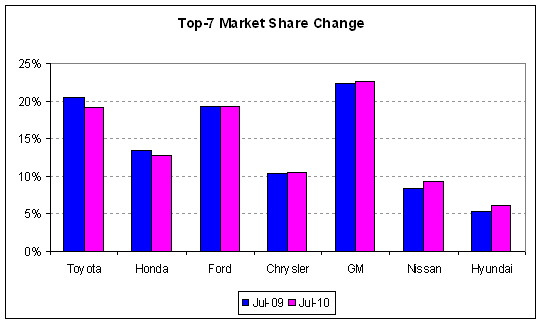 Here, Toyota lost 1.4% and Honda lost 0.7%. Meanwhile, Nissan and Hyundai gained 0.9% and 0.8%, respectively. GM also captured 0.4% more of the pie, while Ford and Chrysler's share remained approximately flat.
The prevailing narrative from the past few months was repeated in July. Hyundai and Nissan continue to shine; the U.S. automakers are slowly recovering; and Toyota and Honda don't appear to be keeping up.
(Source: Marketwatch - Honda, Toyota, GM, Nissan, Ford, Hyundai, Chrysler)