Breaking Down the Bush Tax Cuts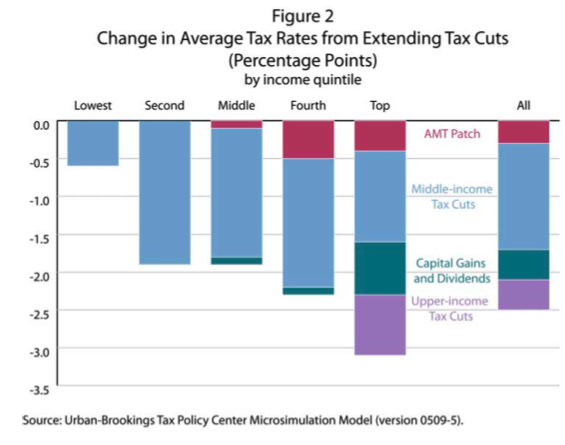 [Atlantic
FLASHCARD
on Bush tax cuts
here
]
The Bush tax cuts are a giveaway to the rich disguised as a tax break for all Americans. They're not about reducing rates for average Joes. They're about putting more money into the hands of the Republicans' millionaire donors. I've seen some variation of that claim made in more than a few columns and blog posts in the last few weeks, and years. So I wanted to pass along the cost estimates of extending the Bush tax cuts for the non-rich, prepared by the
Treasury Department
and the
Joint Committee on Taxation
, both of which show that the expiration of "the tax cuts for the wealthy" -- raising the top income brackets and subjecting richer families to stricter deduction rules and higher capital gains taxes -- still leaves 70 percent of the tax law untouched.
Most of the remaining tax cut provisions will still benefit wealthy families. But much of it will benefit families who aren't considered wealthy by any stretch of the imagination. In fact, the median tax payer will probably pay about $1,000 more in taxes next year if the entire tax cut disappears.
The Bush tax cuts are not merely a special procedure for the top 0.1 percent, but rather a full body surgery on the entire tax code. The permanent extension of the 10, 25 and 28 percent tax brackets, for example, add $800 billion to our debt over ten years, more than the permanent extension of the top brackets for families making more than $250,000.
Not all of that benefit goes to the lower- and middle-class, since the wealthiest families pay some of their tax in the 10, 25, and 28 percent brackets as well. But the idea that the Bush tax cuts are obviously expendable
because they only benefit the rich
isn't exactly right.  To see a full itemized breakdown of the 01/03 laws, look at this
PDF
from the Tax Policy Center. (To see the more wonkishly presented Joint Tax estimates, go
here
or click on the chart below.)