Annual Foreclosure Activity Falls Again in July, by 10%
U.S. foreclosure activity was higher in July than in June as filings increased by 4% to 325,229, according to foreclosure data firm RealtyTrac. This reversed a three-month trend of fewer filings. While disappointing for that reason, last month's performance was still much better than July 2009, with foreclosure activity declining by 10%. That now ranks as the largest year-over-year drop, surpassing June's 7% decline. So while filings remain quite high, the long-term trend continues to improve.
Let's start with a chart showing some history: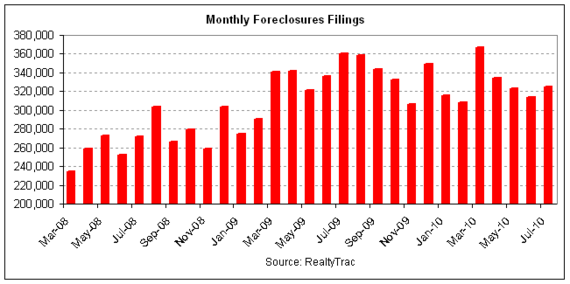 As you can see, monthly foreclosure activity has been above 300,000 for 17 straight months. Even though July had more filings than June, the year-over-year decline stayed on track:
This trend couldn't be much clearer. Although the downward decline in year-over-year foreclosure activity hasn't bee a quick one, it has been consistent.
In July one in every 397 properties received a foreclosure filing. Nevada remained the worst state, with one in every 82 homes filing. Although the state's foreclosure activity increased in July compared to June by 7%, it was down 30% compared to a year earlier. The other top ten all remained the same, though a few switched places on the list:
As you can see, most of these states had a worse July than June, but the top four were better than a year earlier.
As always, it's hard to tell precisely what this aggregate data says about the housing market, because banks have some control over how quickly they foreclose on homes. James J. Saccacio, CEO of RealtyTrac digs deeper into the different filing categories to provide some more color on what's going on:
"Declines in new default notices, which were down on a year-over-year basis for the sixth straight month in July, have been offset by near-record levels of bank repossessions, which increased on a year-over-year basis for the eighth straight month."
In other words, fewer people are defaulting on their mortgage, but banks continue to foreclose on more properties in their shadow inventories. This is good news. As home buying continues to slow, and short sales decline, however, defaults could begin to rise again.