America's Super-Tough Deficit Plan: Soak the Rich, Leave Me Alone
Voters back tough steps to reduce the deficit, the Wall Street Journal reports in a new poll conducted out of Richmond, Virginia. I'd rewrite the headline more along the lines of Matt Yglesias' interpretation. There's nothing "tough" about the country's new anti-deficit streak. Voters back soaking the rich, end of story.
More than 50 percent of respondents said they supported higher federal taxes for the $250+ crowd, a higher ceiling for Social Security taxes, capped Medicare payments to doctors, higher taxes on multinational corporations and benefit cuts for richer Medicare patients. By contrast, fewer than a third of respondents support federal education spending cuts or higher taxes for all Americans.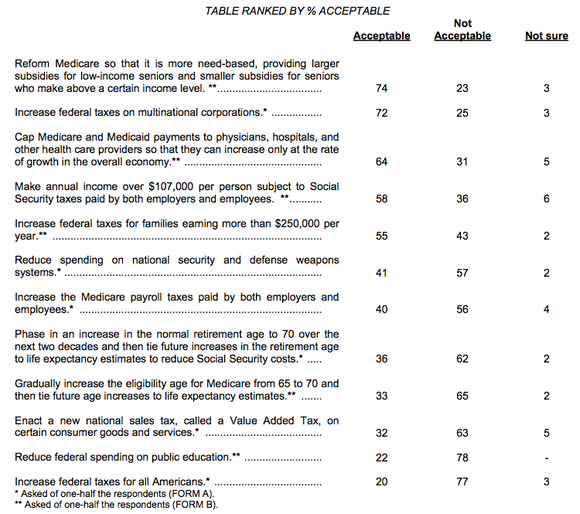 On the one hand, I think polls that try to answer public policy questions aren't worth paying much attention to. For example,
here's a poll
that purported to show that 66 percent of America wants to raise taxes on the top two percent, while 50 percent of America finds any such tax increase "unacceptable." Huh. Policy is confusing and poll questions can't be, so what you're left with is a thousand Americans' talking through their stomachs.
On the other hand, stomachs don't lie, and this table is useful for reminding us that America's appetite for deficit reduction is larger than her appetite for sacrifice. Twenty percent of the country wants to pay higher taxes or give up government spending. A minority want to reduce spending on national security. But most of the country doesn't mind if a richer neighbor or boss gets slammed with a new tax bracket, a higher FICA ceiling, a higher Medicare tax and lower health benefits.
The Journal collects a few surprising quotes from Richmond folks about the deficit being really, honestly, very important to them, but come on.
I'm so scared of the debt, I'll even consider raising my boss's taxes
is not what "backing tough steps" to reduce the deficit looks like.