17 Percent of America in Anti-Poverty Programs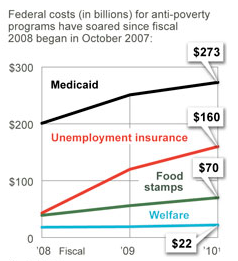 One out of every six Americans
are in government anti-poverty programs, according to USA TODAY. More than 50 million Americans are in Medicaid. Forty million receive food stamps and 10 million receive unemployment benefits.
The long and deep recession has increased federal assistance by about $200 billion a year.

As caseloads for all the programs have soared, so have costs. The federal price tag for Medicaid has jumped 36% in two years, to $273 billion. Jobless benefits have soared from $43 billion to $160 billion. The food stamps program has risen 80%, to $70 billion. Welfare is up 24%, to $22 billion.
This is one of those Rorschach statistics where one's gut reaction to the article is a projection of our broader belief in the role of government. Conservatives will worry that government programs won't contract after the recession and that we're creating a sticky dependency to government assistance.

The way I see it, it's the recession that's bad and sticky. Counter-cyclical spending to catch families who fall off payrolls and juice demand for goods is the baseline for any decent reaction to a recession. The Obama government isn't redefining the definition of government, or relationship between Washington and individuals. It's more like an umbrella manufacturer in a town that has a rare monsoon.