What BP Could Have Bought With the Oil Spill Losses
Since the Deepwater Horizon explosion, BP's stock plunge has cost the company about $100 billion in market capital. That's on top of the billions it will spend on clean up, penalties, and liabilities to the Gulf economy. Visual Economics has a cheeky look at what BP could have bought with that money, from Yahoo, Inc, to an ice cream sandwich for everyone on earth, to a 3 Wolf Moon tee-shirt for everybody in the United States...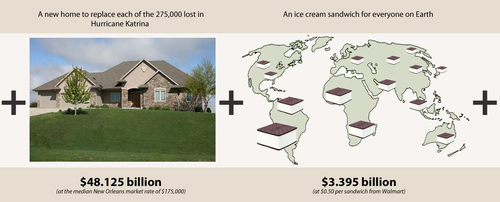 See the full chart at Visual Economics.