Were Retail Sales Up or Down in June?
Retail spending in June fell by 0.5%, according to the Census Bureau. While not a huge drop, it's the second month of decline in a row. It also contrasts with an earlier estimate compiled by using the results of 17 major retailers. Let's dig a little deeper.
Looking at the total sales data, the upward trend U.S. retailers experienced for seven months through April appears to be fading: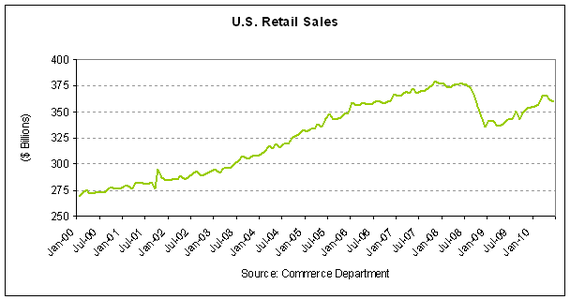 At $360 billion, sales have fallen to the lowest level since February. Still the results are generally less pessimistic than what we saw in May. Here's a chart showing the major categories: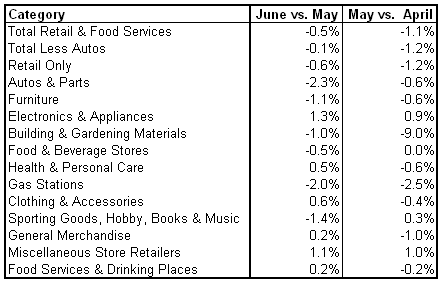 Interestingly, if you take autos out of the equation, the decline was just 0.1%. As you can see, only a few categories' month-over-month change was worse in June than in May. Those included 'autos,' 'furniture,' 'food and beverage stores,' and 'sporting goods, hobbies, books and music.'
Some of the worst categories also make sense considering various aspects of the current economy. Furniture and building materials are likely selling poorly since home sales have sunk. Mortgage applications for home purchases fell again last week to 1996 levels, according to the Mortgage Bankers' Association. These estimates also aren't adjusted for price changes. That explains why gasoline sales have declined -- those prices have been falling.
So what about that disparity of this data compared to that of the big retailers compiled earlier this month? On an aggregate basis, those selected retailers actually saw sales rise 24.5% in June over May. How does that translate to a 0.5% decline according to the Census Bureau? First, it accounted for just 7% of the government's broader tally. Second, today's news includes all sorts of retailers including food stores and auto companies. Third, the government might not calculate the numbers in exactly the same way as the companies do. Still, that's a pretty large disparity, but this could indicate that major retailers are doing comparably better than smaller ones, which make up much of the other 93% not included in the earlier estimate.
It's pretty clear that retail sales remain weak, at best. This trend of the Census Bureau's data is certainly discouraging. It's worth noting, however, that sales were still up 4.8% compared to June 2009. However, if consumers spend less, instead of more, going forward, then the labor market recovery will likely continue to proceed at a crawl.