This Ain't Your Granpa's Debt
When budget experts take our debt's temperature, the statistic they rely on is the debt to GDP ratio. Like banks or families, richer countries can borrow more, safely.
Now take a look at the graph of debt-to-GDP throughout American history below. If you draw a straight line across the picture at 30 percent, you touch some of the most wrenching periods in American history: 1) The American Revolution; 2) The Civil War; 3) WWI; 4) The Great Depression and WWII; 5) The early 1980s recession and the end of the Cold War...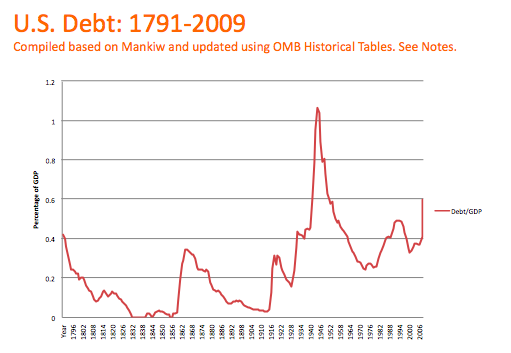 Number six is happening as we speak, with the debt ratio around 60%, the highest since World War II. In 15 years, it's projected to climb to 85%.
But this debt won't like all other debts. The highest debts in history were created by outside factors -- wars and recessions that inevitably ended. Today's debt crisis is the product of what I suppose you might call inside factors: the promises we've made to seniors in the 20th century that we're not prepared to pay in the 21st century.
Here's another way to look at it: Check out federal spending in 1949, when defense and international spending was 50% of the budget, vs. 2009, when entitlements, welfare and income security make up 60% of our budget (graph below). We needed defense spending to defeat enemies -- the Nazis, the Japanese, the Evil Empire -- that we eventually defeated. But as our country grew older and wealthier, the budget shifted away from fighting for freedom and toward fighting income insecurity, toward assisting the old and economically insecure. For the first time in history, our debt crisis isn't the product of exogenous enemies or economic circumstances.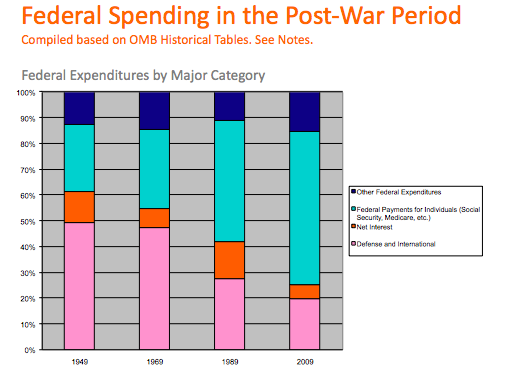 You're thinking: so what? Too often today's debt crisis is compared to WWII. It's an alluring analogy, if you look at the numbers. But it's a busted simile when you look at the circumstances. Those deficits were run up to defeat something outside the budget process (and we owed most of the debt to ourselves). The deficits of the next few decades are scheduled to balloon because of budget decisions -- Medicare and Social Security and tax levels -- that are decades in the making. The political process created this time bomb and the political process will have to defuse it.
Graphs courtesy of Margaret Polski of GMU.