The Two Americas of Social Security Reform
One of the challenges with getting Democrats and liberals along with Social Security reform is finding a way to cut or delay benefits so that poorer retirees aren't slapped in the face. Some analysts lump the beneficiaries of Social Security into a single bucket, but post-retirement America is just as stratified as pre-retirement America. There are, you might say, (at least) two Social Securities.
First, if we're arguing that the retirement age should grow with life expectancy, as Ezra Klein notes, it's important to note that life expectancy growth isn't being shared equally: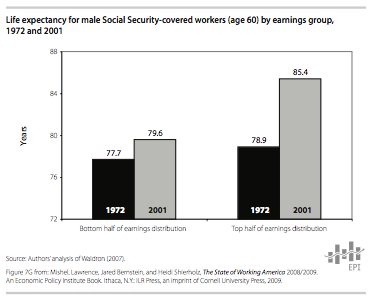 Second, if we're arguing to shrink Social Security payouts by indexing their growth to inflation rather than wages, it's important to note that excluding Social Security, nearly 50% of seniors would qualify below the federal poverty line. (Although, if we reformed Social Security payouts, seniors might shift savings away from SS, which would change this figure.) Cut poorer retirees' Social Security, and more will slip into poverty. This is nearly assured.

We should think seriously about shrinking or delaying Social Security outlays, just as we should think about raising Social Security revenues with a higher tax ceiling. But it's important to conduct these discussions with a full understanding that all Social Security recipients are not equal, and any delay/shrink policy will have radically different impacts across the country.