The Trade Gap Widened in May, But Exports Soared
The U.S. continued to import more goods than it exported in May, as the trade gap widened to $42.3 billion, according to the Bureau of Economic Analysis. The trade deficit was the biggest we've seen since November 2008. But the news isn't all bad. After an April decline in exports, they have rebounded sharply -- they just didn't manage to grow more than imports.
The following chart is helpful: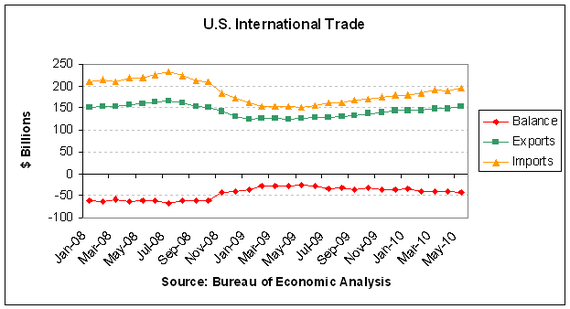 Let's start with the bottom red line -- that's the trade balance. As you can see, the deficit began a declining trend in late 2008, but has increased this year. It grew by $1.9 billion in May, or 5%. This means the U.S. is increasingly importing more goods than it's exporting. While such a trend generally isn't great news, there is a silver lining.
Even though the trade gap hit an 18-month high in May, exports rose substantially, by $3.5 billion. Imports just grew faster, by $5.5 billion. But increasing exports is pretty significant news. Last month they declined by $1 billion, so a big bump in the positive direction is welcome news. In fact, exports grew to the largest amount we've seen since September 2008, hitting a 20-month high.
The data reflects that businesses and consumers in the U.S. and abroad were more active in May. The American people and firms bought more foreign goods and services, while other nations purchased more from the U.S. You can see this trend pretty clearly through the chart above. Even though the trade gap widened, this is a good story in terms of global and domestic demand beginning to return. Purchases from overseas will need to continue to increase to bring about the export-led recovery in the U.S. that some economists hope to see.