The Government Is Still Propping Up Home Buying
Since the home buyer credit ended in April, we have finally begun the descent to the housing market's true bottom. Only now can we see how truly weak home buying demand is, without the government throwing money at people to purchase a house. Since then, new home sales hit a record low, and mortgage applications for new purchases have hit a low not seen since 1996. Yet, this isn't the whole story. In a different way, the government continues to drive a huge amount of the demand for the few houses currently being sold.
A hint of the government's additional influence was provided in this week's mortgage applications report from the Mortgage Bankers' Association. Applications actually rose for purchases by 3.4%. That's good, right? Not so fast. The report says:
The seasonally adjusted Purchase Index increased 3.4 percent from one week earlier, driven by an 8.0 percent increase in government purchase applications.
Government purchase applications? What are those? A spokesperson from the MBA explains that these are applications for Federal Housing Authority (FHA) and Veteran Affairs (VA) loans. Presumably the former is a much larger portion than the latter, but the point is that they're mortgages explicitly guaranteed by the government. Last week, without the increase in these types of loans, mortgage applications for new purchases would have been virtually flat.
Let's look at the effect that these government-guaranteed loans have had. Here's a chart showing total mortgage applications for purchases with and without government purchases: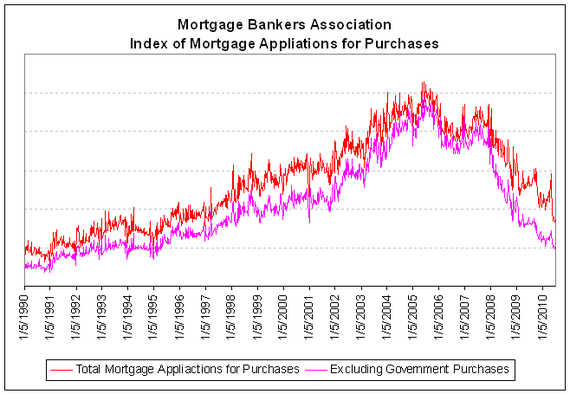 You can see that over the past few years the government purchases have had a dramatic effect on home sales. Taking out the influence of the government guarantees, mortgage applications for purchases are at 1995 levels.
Since 2008, the portion of mortgage originations that rely on government guarantees has increased significantly from 2005 lows. Last week they accounted for 42.8% of the purchase applications. Here's how the government's share has changed, according to the MBA: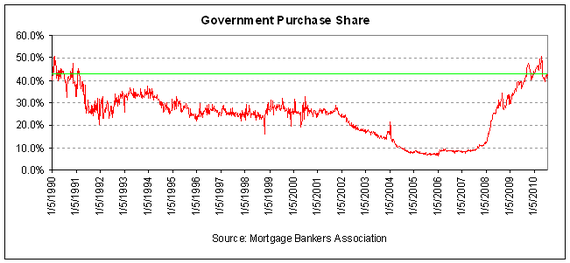 What would happen without the government's influence through FHA and VA loans? Even fewer homes would have been purchased. Some of these borrowers might have sought private financing, but less favorable terms would have caused others to decide not to buy a home at that time. Thus, true housing demand, based on the private sector alone, is even weaker than it appears.