Small Business Optimism Falls, Erases Earlier Gains
Small businesses in the U.S. were feeling less optimistic in June, according to the National Federation of Independent Businesses (.pdf). Its Optimism Index fell just over three points to 89.0, erasing most of its modest 2010 gain. Smaller firms' optimism now sits at about the same level as it did in January. The NFIB's report shows that these businesses still face significant challenges.
Here's a snapshot of the components that make up the NFIB's Small Business Optimism Index, and how they changed in June: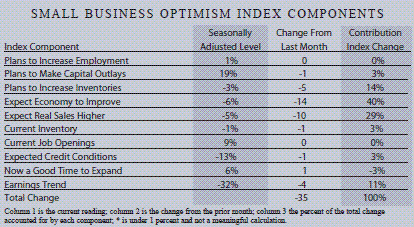 You can see that most components worsened last month. Only one got better -- now being a good time to expand -- and barely, by just 1%. Meanwhile, the percentage that expects the economy to improve declined by a devastating net 14%, to bring the reading into negative territory. Sales are also largely expected to be worse.
Economic conditions remain the predominant reason why most firms think it's not a good time to expand. The next most common reason given was the political climate. Small firms face still face a substantial amount of regulatory and other legal uncertainty. Despite the fact that credit is often labeled a major cause of small business' woes, just 1% of those polled named financing and interest rates as the reasons they aren't expanding. That means fixing the credit problem isn't likely to improve hiring, but it may help to keep some struggling small businesses afloat, which might prevent more jobless Americans.
One of the grimmest readings came from sales expectations. It dropped to a level not seen since September 2009. It's still no where near its 2009 low, however.
With small business responsible for 60% of job growth, their hiring plans matter. Unfortunately, there's no great news here. In June their hiring plans were unchanged. Here's a chart showing the net percents of planned hiring and job openings: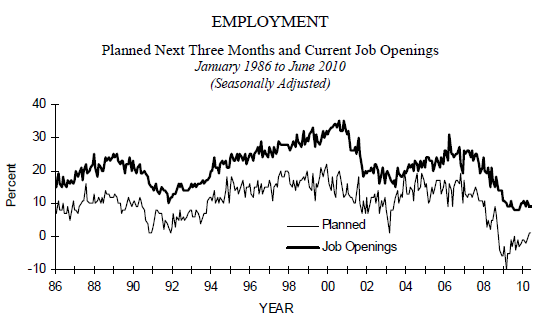 As you can see, planned hiring is not yet close to pre-recession levels. For significant recovery expansion, it would have to rise above even the good times.
Although not a major driver for the lack of expansion, challenging credit conditions continue to plague small businesses. Although they didn't worsen in June, they also didn't get any better:
Interest rates did decline for small businesses last month, however. Short term rates were down to 6.0% on average, the lowest rate since February. This may provide a little relief to the firms that actually manage to get credit.
Finally, poor sales and taxes continue to be the biggest problems for small businesses. Government regulations and red tape follow at third. Here's a chart showing the breakdown: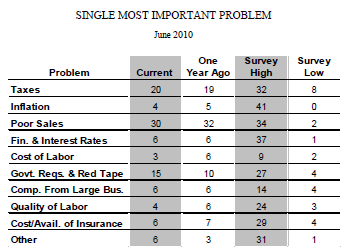 This data provides a roadmap for Washington to follow. The government can't make people or businesses buy more stuff, and until they're comfortable doing so, sales will be a problem. But it could work to reduce the tax and regulatory burdens facing small businesses. This survey indicates those measures could go a long way.