Second Quarter GDP Growth Disappoints at 2.4%
The U.S. economy's growth slowed in the second quarter to a rate of 2.4%, according to the Bureau of Economic Analysis. The figure is slightly below consensus expectations of 2.5%, but significantly lower than the revised estimate of 3.7% growth for the first quarter. Some of the highlights from today's report were a slightly stronger consumer, more residential investment, more government spending, and much lower net exports.
First, here's the historical chart from the past few years: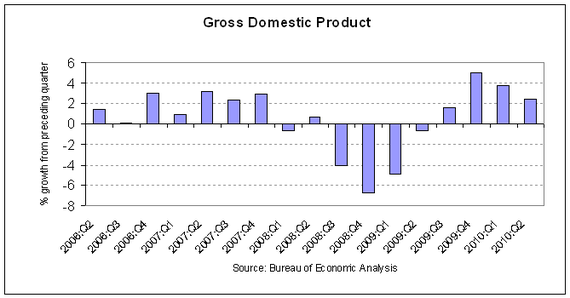 You can see that GDP has been steadily stepping down since late 2009. (See further down the post for an explanation of revisions to GDP figures since 2007.)
Consumer Spending
Americans spent more in the second quarter than they did in the first, as consumer expenditures rose by 1.6%. That is, however, a slower rate of growth than the first quarter's value of 1.9%. Consumer spending was effectively responsible for about half of net GDP growth in Q2.
Within spending, measures that suggest stronger consumer confidence mostly improved. In general, spending on services was relatively strong, up 0.8%. That's after being nearly flat in the first quarter. The numbers also indicate that Americans were eating in less and out more, which is generally a sign that they aren't being as stingy with their money. Durable good sales also grew pretty much across the board, with more autos, furniture, and recreational purchases all adding to growth.
Investment
Gross private domestic investment grew at approximately the same rate as it did in the first quarter -- by around 29%. Businesses continued investing more in equipment and software last quarter. Industrial equipment purchases grew sharply, after a flat first quarter. Firms' investment in structures also grew in Q2, after a decline in the quarter prior.
One significant part of investment came through additional residential investment, as the home buyer credit drove purchases for part of the second quarter. After a 12.3% decline in Q1, they grew by 27.9% last quarter.
Net Exports
The only real black eye in the report came with net exports. They contracted significantly. In the first quarter, they were responsible for slicing just 0.31% off of GDP growth, but last quarter their negative contribution was equal to GDP's entire net growth value. In other words, if Americans didn't buy so many more products from other nations compared to what they sold those countries, GDP growth would have been more than double the 2.4% total.
The culprit here was imports. Export growth were essentially flat from Q1 to Q2, but imports grew more than twice as quickly last quarter compared to the first, by 28.8%.
Government Spending
Finally, the government spending grew significantly. Here, we saw a reversal with state expenditures. They declined by 3.8% in the first quarter, but grew by 1.3% in the second. Federal spending, however, grew at far brisker pace of 9.2% in the second quarter, compared to a much slower 1.8% growth rate in the first part of the year.
Revised Data from 2007 Through Q2-2010
This report also included a major revision of data since 2007. The chart below sums it up: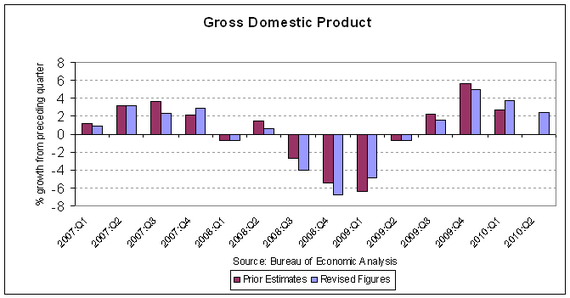 You can see that Q1 of this year was revised a whole point higher, to 3.7% from 2.7%. But some of that might have come through the downward revision of Q4-2009 data to 5.0% from 5.6%. The quarter before that was also revised downward, to 1.6% from 2.2%. In general, however, the direction of revisions was mixed. But one interesting note is that the worst quarter during the recession changed from Q1-2009 to Q4-2008, when GDP declined by a devastating 6.8%.
These revisions remind us to take today's data with a grain of salt. The second quarter data explained above is just a first estimate. It will be revised twice more over the next few months, and then probably a few more times after that, as we saw with today's major revision. At this point, however, it appears that last quarter was much weaker than the first this year.