No Oil Gushing Sends BP's Stock Climbing
Traders take advantage of the good news.
At around 3:35pm this afternoon, the market learned that BP's new cap had stopped oil from gushing into the Gulf of Mexico for the first time since April. I immediately g-chatted a friend of mine with the news, half-jokingly telling him to quickly buy BP stock. Apparently, I wasn't the only one with the bright idea. Here's what happened via Yahoo! Finance: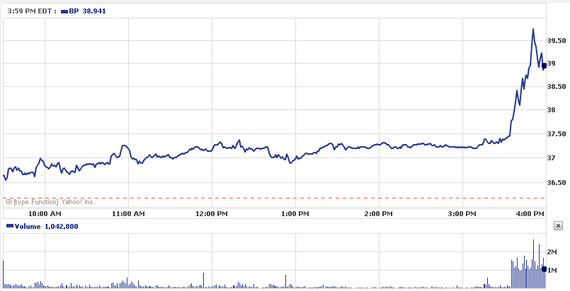 It dipped a little at the end there, but that's a pretty steep spike. The stock closed 4% higher than it was at 3:34, thanks to the last 25 minutes of trading. At that point it was at $38.94. As I type this, it was rising further in after-hours trading, back up to $39.38 at 4:10pm, which is an increase of 9% on the day. If you bought the stock on June 25th, when it was trading for $27.02, the you're feeling pretty smug right about now, having made 46% in a couple of weeks.
If this cap is really doing the trick, this is incredibly good news for the firm. Obviously, a whole lot of damage has been done, and the total price tag isn't known. But the market's worst-case fears must have imagined that it would take even longer than this to stop the leak. If the oil gushing has truly ended, then the liability owed from the accident will find a finite ceiling. And as bad as it will be for BP, it undoubtedly could have been even worse.